Saoirse Ronan to star in The Host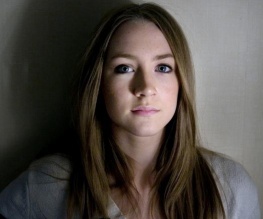 Saoirse Ronan, whose latest film Hanna hits cinemas this Friday, is to star in an adaptation of Twilight author Stephenie Meyer's only non-vampire related novel.
The Host, which is being directed by Susanna White (Nanny McPhee and the Big Bang) and written for the screen by Andrew Niccol (The Truman Show), will star Oscar nominee Ronan (The Way Back) as Melanie Stryder, one of the last humans resisting an invasion by parasitic aliens who possess their victims and erase their memories. For some reason.
Ronan's character is taken over by a particularly experienced alien soul rapist called 'The Wanderer', who she must then attempt to win round by projecting happy thoughts at it or something. There might be more to it than that (for example, there's a character called Uncle Jeb), but if we're honest we simply don't care – Niccol's influence aside, this is clearly going to be nonsense. Don't do it, Saoirse! Get Stephenie's psychic tentacles out of your lovely Irish head!
About The Author