Schwarzenegger admits illegitimate child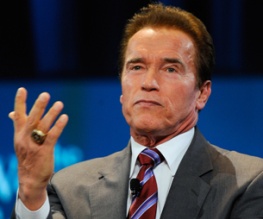 Last week, Arnold Schwarzenegger announced that he was splitting from Maria Shriver, his wife of twenty-five years. Today, he revealed the reason – he has spent more than ten years supporting the illegitimate child which he whelped on a member of his domestic staff, and when he told his wife about his fifth child after leaving office as Governor of California she (unsurprisingly) took her leave.
Maria Shriver has unswervingly supported her husband throughout years of allegations of sexual misconduct, which everyone clearly knew were true. Poor old her. This isn't a big enough scandal to seriously harm Arnie's career, but kid-friendly cartoon The Governator (which stars Arnie as a costumed crime-fighter operating out of the mansion he shared with Shriver until last week) may have an uphill struggle to get made now. Austrians, eh?
About The Author