Shia LaBeouf smells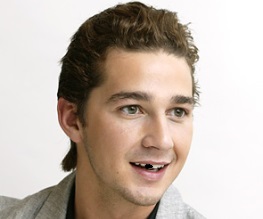 Oh, how we've longed to write a title like that. 'Shia LaBeouf steals', that's never been a problem; and 'Shia LaBeouf says it with planes' is a perennial favourite, but 'Shia smells' is a sentiment that has, thus far, been confined to the toilet walls of the Disney castle or wherever it was the little tosser grew up. But, ladies and gentlemen, no longer. Because Shia LaBeouf smells, and Brad Pitt said so.
Although it's now all over the Internet, the Mail on Sunday appears to have broken the news that LaBeouf's fellow cast members in WW2 flick Fury, which is currently shooting, have shunned the eccentric actor because he refuses to wash. LaBeouf has reportedly gone seriously method for his role as a member of an American tank crew, pulling out one of his own teeth (soldiers love to do this) and neglecting the bathroom for weeks on end. After being warned about his behaviour by both his co-star Pitt and director David Ayer, LaBeouf is now being ignominiously shuttled around a series of Oxfordshire B&Bs rather than staying with the rest of the principal cast.
This isn't the first time Fury has been in the papers – the Mail and so on reacted with predictable hooting outrage when Ayer refused to cancel planned filming on Remembrance Sunday. We suspect he's more embarrassed about his filthy, plagiarising star.
Right, when is someone just going to stage an intervention? It's getting silly.
About The Author