Spielberg to direct War Horse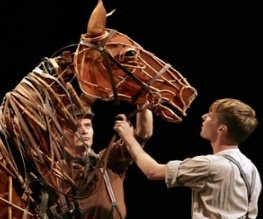 It's been a bestselling novel and a London stage hit. Now War Horse is set to run on the big screen, courtesy of an adaptation by mega-director Steven Spielberg.
Originally written by Michael Morpurgo, War Horse centres on a young Devon farmhand who braves the trenches of the first world war in an effort to find his beloved colt, Joey. As a stage-show its taken London by storm, booked into the New London theatre until February 2011, and planning to transfer to Broadway after that. There will no doubt be some people worried about the tricky transition from stage to film, but we reckon if anyone's gonna do it, Big Dog Spielberg is the man. He's got a long and rich history in making war films, with his hits including Saving Private Ryan, Schindler's List, and the TV series Band of Brothers.
Discussing the project last December, Spielberg said he felt the story was one with a wide appeal. "Its heart and its message provide a story that can be felt in every country," he said.
So do you say yay or neigh to this new project? Let us know below…
About The Author