Star Wars VII lures Harrison Ford to the dark side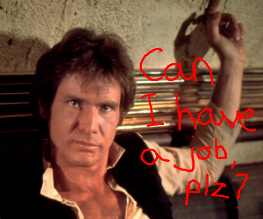 Star Wars VII seems to actually be a thing, and the announcement has sparked an 'unknown source' for Total Film to claim that Harrison Ford would be interested in reprising his role as blaster-toting scoundrel Han Solo. The unnamed source has also said that Mark Hamill (recently being amazing as the voice of The Joker in Batman: Arkham City) and Carrie Fisher (recently being bugnut crazy) are also interested in a return.
It's unclear what 3 pensioners doddering around the set of Star Wars Episode VII might actually be doing. Presumably Mark Hamill will have to take some kind of supplement to keep his lightsaber rigid.
Han Solo was the Star Wars universe's most awesome smuggler, that is until Star Wars Episode VI: Return of the Jedi, where be became a smirking carbonated sponge. If that seems a little harsh, remember that Harrison Ford didn't particularly want to be in Star Wars Episode VI, and was adamant that Han Solo should die at the beginning, thus injecting the film with a much needed sense of danger. George Lucas vociferously disagreed, citing action figure sales and Ewoks and the like. Although the big happy ending of Star Wars Episode VI is a part of our childhoods now (also Hayden Christensen was there, apparently) it's undeniable that Harrison Ford did have a good idea.
Maybe he will finally fulfill his destiny in Star Wars Episode VII and strike himself down with all of his hatred for poor Han Solo.
Be sure to check all the Star Wars malarkey we've been putting up lately, including our Star Wars Drinking Game and the Best For Film team's take on the recent LucasFilm purchase by Disney.
How do you think the most awkward love triangle outside of ancient Greece will play out in Star Wars Episode VII? Do you expect to see Ford, Hamill and Fisher actually return?
About The Author