Casablanca sequel under consideration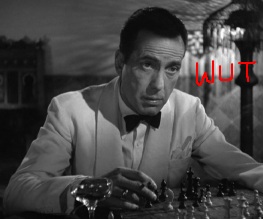 Seventy years after Casablanca arrived as one of the most iconic films ever produced by Hollywood, talk of a possible sequel has once again reared its head. In an interesting twist, the idea stems from a treatment written by original scribe Howard Koch in the 1980s.
The treatment outlines a now-adult son of Ilsa and Rick's, who goes in search of his estranged father: "The boy was named Richard, and he grew up to be a handsome, tough-tender young man reminiscent of his father. He had been told the truth about his origin and has a deep desire to find his real father, or at least more about him, since Rick's heroic actions in Casablanca have become legendary."
Before we stamp a bright red WTF on the idea and consign it to the same plot in Springfield that housed the original's alternate ending, let's not forget that the original isn't exactly a sacred text. 'Casablanca' saw its TV debut in the mid-1950s, with Rick still running his bar in the titular city. People weren't ready to oblige the producers' attempt to hijack the endless goodwill for the original film, and plans for a full-blown cinematic Casablanca sequel were put on ice. A second attempt at a Casablanca TV series was greeted with even more hostility in 1983, and it was scrapped after three episodes.
Seventy years on and Casablanca remains iron-clad. All attempts to carry on its legacy via a sequel have been rebuffed at some stage or another. It's still just whispers in the dark and Joseph Gordon-Levitt has been mooted to play Rick's son. We're not particularly worried, in all honesty. It's money that talks, and we're unsure that anyone beyond the morbidly curious will be baying for Casablanca 2. We're only sure that for those involved, if it ever achieves lift-off, they'll regret it. Maybe not today, maybe not tomorrow, but soon. And for the rest of their lives.
About The Author