The Hangover that won't go away…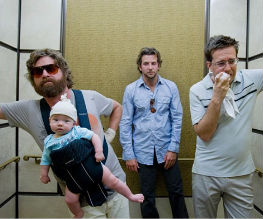 For fans of 2009's smash hit The Hangover it's time to rejoice, as we can confirm that the original movie's troublesome trio of Bradley Cooper, Ed Helms and Zach Galifianakis have all signed up for the film's sequel. Despite earlier hesitance from the movie's stars to commit to the sequel, it is proposed that shooting for The Hangover 2 will commence sometime in July, with Cooper reportedly so eager to commence filming that he has pulled out of rom-com This Means War (which was also due to commence filming in July).
It is rumoured that the stars will net themselves a cool $5m each, five times the amount they were paid for the original. The original, one of the surprise hits of 2009, saw the trio engage in a variety of inebriated japes in Las Vegas.  Word on the Hollywood grapevine is that the latest instalment will see the boys taking their brand of hilarity to a foreign destination, with Thailand and Mexico rumoured to be the (un)lucky hosts. Frankly,  we're all as pleased as punch about this one.
Ready for a second shot of The Hangover or still feeling sick as a dog? Tell us what you think…
About The Author