Velvet Underground Frontman Turns Director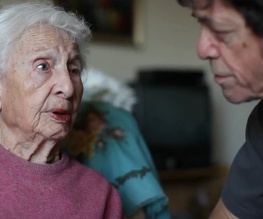 Lou Reed, former front-man of rock band The Velvet Underground has made a documentary that will premiere at the Visions du Réel festival in Nyon, Switzerland. What's it about? Drugs? The heavy rock lifestyle? Actually, it's about his 99 year old cousin, Shirley Novick, and it's entitled Red Shirley.
Filmed on the eve of her 100th birthday, the film covers Shirley's life today, as well as exploring her stories of her past. We learn that she left Poland on her own in 1938 at the age of 19," according to the programme notes, "with only two suitcases and a few dollars in her pocket to travel to Montreal – where in six months she was to learn not French but the mandolin! – before finally slipping off illegally to New York, buried under the goods on a truck. There she was to become a dressmaker and to lead the workers' demands – hence her nickname Red Shirley, which gave the film its title."
As well as directing the 28 minute film, Lou also wrote the soundtrack, which might make it worth a look for music fans. Have a wee look at the trailer here, which is mostly made up of him having a laugh with his cousin. Bless his little velvety face.
A documentary you'd go to Switzerland for? Let us know below!
About The Author