The Hobbit: The Desolation of Smaug gets two new TV spots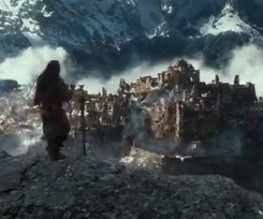 Last week, we got a nice little peek at the next instalment of The Hobbit trilogy with some pretty action packed banners. This week, Peter Jackson is filling in the left-over gaps with a couple of TV spots, just for good measure.
Both provide a pretty general sum-up of what we can expect. The first sticks pretty close to the J.R.R. Tolkien novel, following Bilbo (Martin Freeman) as he accompanies Thorin Oakensheild (Richard Armitage) and the Dwarves on their est to regain the lost land of Erebor and the gold that is rightfully theirs. Find your courage to witness the impending adventure:
The second clip explains why this shorter tome is finding itself extended into three films. Here we check in on Gandalf (Ian McKellen) and his dealings with the Necromancer (voiced by Benedict Cumberbatch). Fashioned from the 125 pages of additional notes found in the appendices of The Return of the King, it fills out some of the more interesting but unexplored subplots of the series while bridging the gap between this and the first trilogy.
So far The Hobbit: The Desolation of Smaug is promising a pretty tall order of thrills and spills but it's those trademark Peter Jackson & Weta visuals that we are really waiting for. And so far, we don't look like we'll be left disappointed. The scale, detail and decadence of the staging is truly stunning, even in snippets, and well it should be with the total cost being reported as surpassing a whopping US$560 million already. Let us help you put this into perspective: all THREE of the previous Lord of the Rings films topped out at US$281 million. Then again The Hobbit: An Unexpected Journey did pull in $1.017 BILLION worldwide, leaving little doubt that both this and the next instalment, There and Back Again, will fare likewise.
The Hobbit: The Desolation of Smaug will be creeping into cinemas on December 13 giving you all you need to kick off the season just right.
About The Author