Tilda Swinton attacks David Bowie with electric carving knife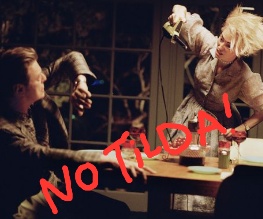 David Bowie and Tilda Swinton, in a bid to give us all nightmares forever, have teamed up to create an absolutely outstanding music video for his new single 'The Stars (Are Out Tonight)'. Outstanding but still, we hasten to add, absolutely mental.
But then what else can you expect from the Goblin King and the White Witch, eh?
Swinton's almost uncanny resemblance to Bowie has been something of a hot topic over the years, so it makes sense that they'd eventually team up – we just didn't expect it to be as a married couple. The mad (oh so very mad) music video begins with the pair as established lovers, set in their ways somewhat, shopping for groceries at the local store. Nothing too odd about that, right?
Not until you notice that they're being stalked by a celebrity couple, played by Andrej Pejic and Saskia De Brauw, both of whom also look just like David Bowie. We've got a Bowie pandemic on our hands – and it seems to be having an extremely unsettling effect on Tilda Swinton's sanity levels.
Check it out for yourself below:
Tilda Swinton. With a turkey carver. Attempting to shred David Bowie to ribbons. WHAT DOES IT ALL MEAN? Maybe it's all about Bowie confronting his (very rational) fear that Swinton will one day look SO VERY MUCH LIKE HIM that, like, nobody believes he's him anymore. And he doesn't get to just slide into the role of Tilda Swinton, because she's pretty capable of handling both (have you not SEEN her in Orlando guys?) so David Bowie would be surplus to requirement. And so he'd be sliced up and fed to a cat.
Or we could go with Bowie's own analysis of the video, which he says is attempting to depict "a twenty-first century moment in its convergence of age, gender and the normal/celebrity divide". Hmm. That… that sounds feasible than the thing that we said, doesn't it?
Do you think David Bowie should be scared of Tilda Swinton? Why?
About The Author