Total Recall Goes Viral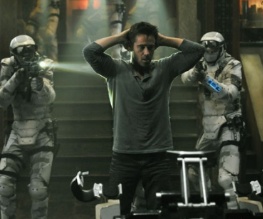 The brains behind the Total Recall reboot have decided to think outside the box and launch their very own for memory-insertion company, Total Rekall.
"Escape From Your World to Ours!"
The Total Rekall website, just like you'd imagine, boasts that it can implant memories of a virtual vacation inside your very own brain.
"A Rekall representative will call you when experience packages become available."
Will they?
Oh. Oh, apparently they might do; why else would they include a box for you to fill in your information?
"Thank you for entering your phone number. A representative will call you when your vacation package is available. Rekall, we can remember it for you."
Sadly it only works for US numbers at the moment, but that's expected to change in the not-so-distant future; after all, why should they get to keep all the invasive memory adaptation for themselves?
Rumours abound that this is just the start of something bigger; perhaps those who enter their numbers will be invited along to a brand-new memory insertion at some point. Or, as we like to call them, a film screening. Either way, it's not a trailer for a trailer for a trailer, so we relieved enough to register this action as positive.
If you could have any memory inserted into your brain, what would it be? Ours would be the security codes for the Bank of Switzerland…
About The Author