Venice opens with première of Clooney's Ides of March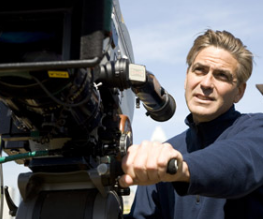 George Clooney's first attempt at film-making, The Ides of March, both directed by and starring George Clooney, and also featuring Ryan Gosling and Philip Seymour Hoffman, is up against 21 other films for awards at the ten day long festival.
The Ocean's silver fox faces stiff competition from the likes of Roman Polanski, David Cronenberg, Andrea Arnold and, err… Madonna. Polanski débuts his dark comedy God of Carnage , starring last weeks heroine Kate Winslet and Jodie Foster. Cronenberg's A Dangerous Method starring Viggo Mortensen and Keira Knightley (well, it is a period drama of sorts), is every budding psychologists' wet-dream, portraying the relationship between Sigmund Freud and Carl Jung. Andrea Arnold enters her adaptation of Wuthering Heights (which shockingly does not star Keira Knightley!)
Clooney's sexy political thriller, although receiving an exulting four-star review from the Daily Telegraph, provoked a tepid reaction from critics in Venice.
The jury is chaired by Black Swan director Darren Aronofsky, and now that Madonna's W.E. has been completely slated, competition stiffens between the festival's real directors.
About The Author