Vinnie Jones treated for skin cancer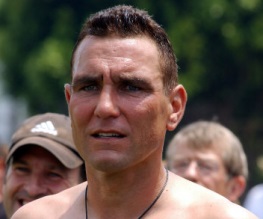 Footballer, hard man and sort-of actor Vinnie Jones has announced that he's being treated for multiple instances of skin cancer on his face and head.
Speaking to The Sun on Sunday, Jones described cancer as his "toughest and scariest opponent yet" and described how he'd had three malignant melanomas removed from under his eye and the back of his head. This news comes just days after fellow action movie star Hugh Jackman (who Jones fought as Juggernaut in X-Men: The Last Stand) revealed that he was suffering from Basal-cell carcinoma, another form of cancer that principally attacks the face.
The Lock, Stock and Two Smoking Barrels star concluded that his years playing football, working on building sites and fishing (fishing?) were to blame, and urged his fan or fans to keep an eye on the state of their skin. We just hope that this isn't the first sign of a plague of tumours specifically mutated to feast on the steely gaze and rippling biceps of action heroes. If we're going to have a genre-specific illness, can't we have some sort of fungus that invades 'scripted reality' programmes and suffocates all the idiots who star in them?
Vinnie Jones nearly won Celebrity Big Brother, he can definitely beat cancer. Go on, Vinnie!
About The Author