We Need To Talk About Kevin trailer now online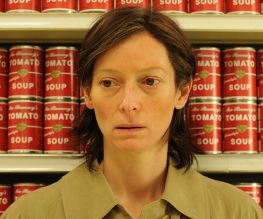 Ahead of its release in the UK this October, We Need To Talk About Kevin has debuted its first full-length trailer. Though it received mixed reviews at Cannes, we have to say we're pretty impressed by it. And is is ever not great to see Tilda Swinton?
Based on the 2003 bestselling novel by Lionel Shriver, We Need To Talk About Kevin centres on the relationship between a mother (Tilda Swinton), father (John C Reilly) and son (Ezra Miller), and how the parents cope after their child commits a terrible crime. We don't want to give too much away seeing as the trailer does such a good job of keeping things under wraps, so perhaps its best you just take a look:
Even the harshest reviews had nothing but praise for Swinton's central performance, so if you're not bowled over by the premise or the inclusion of John C Reilly (what are you, some sort of monster?) it still should be worth a look.
About The Author