Will Emily Blunt Star In 'The Thin Man' Remake?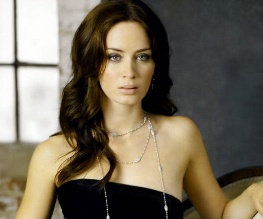 The Thin Man remake already has Johnny Depp in the starring role, but, with a host of gorgeous actresses vying to be his leading lady, it seems as if Captain Jack has got his work cut out for him.
To give us all a smidgeon of background before we start batting names around the ballpark, The Thin Man follows the story of Nick Charles, a former detective who marries playful Nora for her money. They sink into a blissful retirement until an old friend asks Nick for help in solving a case and the husband and wife decide to give it a whirl, just for the sheer fun of it. Classy and hilarious film noir, basically.
Deadline has reported that Emily Blunt, Amy Adams, Carey Mulligan, Eva Green, Emma Stone, Rachel Weisz, Kristen Wiig and Isla Fisher are among those meeting with director Rob Marshall next week to try to land the gig. It seems as if he's got his work cut out for him…
While many are suggesting that Green, having worked with Marshall on Dark Shadows, has the upper hand, rumour mills are spiralling out of control with the idea of Emily Blunt in the role. She can do funny (we've seen Devil Wears Prada), she can make any on-screen relationship come to life (apparently) and can work her magic with even the worst material possible (not that we've seen Salmon Fishing In The Yemen, but… you know!).
Then again, if it's comic timing we need, could we do any better than Wiig? And if it's fresh young talent, what about Stone? Amy Adams has proven her salt in The Fighter, Isla Fisher would work well as a playful socialite, Rachel Weisz is, generally, amazing and Carey Mulligan… well, she's very good. But we're not so sure there's any call for her so-very-sad eyes in this flick, to be honest.
Auditions are happening sometime this week and we're thinking that, as the script is already in place, filming is set to begin sometime this year.
Who do YOU want to star alongside Johnny Depp?
About The Author