Will Tom Cruise play Jack Reacher?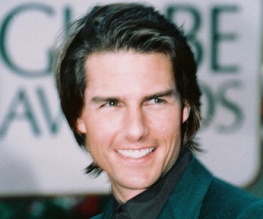 Well, this is unexpected. Rumour has it that diminutive cult leader Tom Cruise may return to action heroism post-Rock of Ages – he is in talks to star in One Shot, the first Hollywood adaptation of one of pseudonymous author Lee Child's Jack Reacher thrillers. Somewhere in California, a casting agent is choking with laughter.
Reacher, the star of a series of glossy doorstops of the sort which bald men in polo shirts buy in airports, is a textbook Mary-Sue who shares an impressive height of 6'5″ with his creator – however, the physically undistinguished Child has then proceeded to adorn his literary avatar with ice blue eyes, dirty blond hair, an effortlessly muscular physique and the strength to "break a man's neck with one hand… and kill a villain with a single punch to the head." (Thanks, Wikipedia).
Just to recap, that makes Reacher a full ten inches taller and a whole lot manlier than the teeny tiny Cruise, whose principal qualification for action hero status has hitherto been the ability to fit into very small cockpits (hee!) and dangle safely on the cheapest rope available. It's true that, with Jeremy Renner set to take over the M:I franchise after the improbably named Mission: Impossible – Ghost Protocol hits screens this December, Cruise has got nothing but sci-fi epic Oblivion standing between him and unemployment – still, Tom, is a little discernment too much to ask?
Christopher McQuarrie (writer: The Usual Suspects, director: The Way of the Gun) is in the chair for this one. Let's hope he knows what miscasting looks like.
About The Author