Date Night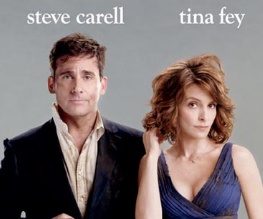 Steve Carrell and Tina Fey – a team that comedy lovers have dreamt of for some time. She – the writer/performer that shot to fame on Saturday Night Live, before penning Mean Girls and super-hit TV show 30 Rock. He – initially noted in hilarious roles in Anchorman and Bruce Almighty, who went on to star in the American Office and The 40-Year-Old Virgin. How can it possibly go wrong? Well it doesn't, of course. But that doesn't mean it goes totally right, either. Despite being an enjoyable romp, we couldn't help but be a little disappointed in the blockbusting-over-quirky Date Night.
Carrell and Fey
[FLOWPLAYER=http://uk.clip-1.filmtrailer.com/3719_10080_a_3.flv,275,180]
Phil Foster (Steve Carell) and his wife Claire (Tina Fey) live in suburban New Jersey with their two kids. Every week, the couple hire a babysitter so they can go through the ritual of 'date night' – sitting at the same table in the same restaurant ordering the same food, all under the guise of spending a little quality time together. Rocked by the news that their good friends are divorcing, Phil decides to take Claire to the most exclusive new restaurant in Manhattan. The Fosters arrive without a reservation but when another couple fails to turn up, the Fosters pretend to be the elusive Tripplehorns and take the vacant table. Towards the end of the meal, two heavies, Armstrong (Jimmi Simpson) and Collins (Common) take Phil and Claire into an alleyway and demand the return of a flashdrive which the real Tripplehorns have stolen. When their innocent pleas fall on deaf thug ears, the married couple becomes embroiled in a life or death race around the city involving a violent gangster (Ray Liotta), a disgraced Mayor (William Fichtner), a plucky female cop (Taraji P Henson) and a hunky surveillance expert (Mark Wahlberg).
First Date Jitters
Don't get us wrong, it's funny. The leads and supporting cast all shine in this chase-comedy, and casting wise, there's not a step out of line. It's just, well, Tina and Steve can offer so much more. The comedy is fairly obvious, based on big set pieces and cliche jokes rather than the nuanced genius that got both of them the fame they deserved. Both carry the script well, but there's no denying that both seem much more comfortable in their own material than in this film. It's a real shame too, as there is definite on-screen comic chemistry between them both. We just wish the material had matched the performers.
Chase Comedy
But perhaps we're being harsh. Date Night is still very enjoyable, engaging and pacy. The story – though nothing new – keeps you entertained, and allows the two leads enough space to freestyle (though not as much as we'd like). All in all, its best to keep expectations low-ish. Go in expecting an average chase comedy and you'll come out smiling. But go in hoping for the next generation of comedy pairings, and its a bit of a disappointment.
Did you enjoy your Date Night more than we did? Let us know below…
About The Author