Up in the Air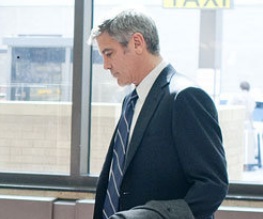 As nice as the rom-com genre is for fluffy, escapist fare at the cinema, it's rare that we can actually write a review of one that says anything other than "perfectly nice but predictable". Did You Hear About the Morgans?, It's Complicated – oh, how many countless January hours we've spent ensconced in front of films that kept us entertained enough, but that we immediately forgot about ten minutes after the lights went up. Enter Up in the Air, the latest romance-comedy-drama from Juno director Jason Reitman, and starring perhaps the most universally idolised and desired movie star of our generation, George 'Smooth As Silk' Clooney. The prospect of such a dream team was always going to be a hotly anticipated one, and we're pleased to report that this is one of those few wondrous instances of a film living up to its press. Up in the Air is intelligent, it's soulful, it keeps you laughing, it keeps you guessing, and it leaves you with that lump-in-your-throat feeling that you've experienced a truly lovely moment in cinema.
High flyer
[FLOWPLAYER=http://uk.clip-1.filmtrailer.com/3230_8406_a_4.flv,275,180]
Clooney plays Ryan Bingham, a perpetual business-tripper who travels America firing employees for downsizing companies who, as Ryan says in his opening monologue, "don't have the balls to face their own people." Ryan, however, has plenty of balls – he's detached, avoids emotional involvement at all costs and lives for his nomadic lifestyle, dreaming of the day when his frequent flyer account reaches 10 million miles. When smug young graduate Natalie (Anna Kendrick) comes up with a new cost-cutting strategy for Ryan's company that could see his jetsetting cut short, Ryan takes her along on a cross-country firing expedition to teach her a thing or two about the realities of the business. But as the two get to know each other, and as Ryan's romance with fellow commitment-phobic frequent flyer Alex (Vera Farmiga) deepens, it's Ryan who really learns the lessons about the downside of his lonely existence.
Bitter and sweet in equal measure
You would think with a somewhat gloomy plot premise like 'corporate fat cat learns error of his ways', there wouldn't be room for too many laughs, but somehow this film has hit all the right notes. Reitman, who also penned the screenplay, perfectly intersperses witty comedy and fantastic one-liners with unexpected moments of poignancy and spot-on commentary on issues like redundancy, corporate ethics and what it takes to be a success. It's no surprise that Clooney plays the contented bachelor with amusing aplomb, but what's more surprising is the equal amount of empathy and quiet sadness he brings to the role when his character realises he's not quite as happy on his own as he likes to think. His co-star Kendrick, previously only seen in a ditzy support part in the Twilight films, is also a surprising standout – that she can virtually match a veteran like Clooney for comedic timing and hold her own in the dramatic scenes too means this film should do for her what Juno did for Ellen Page. Reitman certainly has a thing for uncovering new talent.
If you only go to see one film this month, make it this one, and you won't be disappointed. It's perfectly balanced, extremely well acted, just entertaining enough to still qualify as escapism, but just smart enough to make you have a good think about your life before you leave the cinema. Reitman, you've done it again.
What did you think of Up in the Air? Overrated or a gem? Let us know below.
About The Author