Whiskey Galore!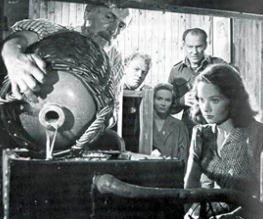 The Ealing Comedies have a special place in my heart, lodged somewhere between my left ventricle and a small plastic car I ate when I was six. For those of you who might not be aware, Ealing Studios is perhaps best known for releasing a number of utterly wonderful comedies during the 40's and 50's, which solidified its position as one of Britain's best loved studios.
Whisky Galore is the first of several upcoming re-releases (others to look out for are Kind Hearts and Coronets, Went the Day Well and The Lavender Hill Mob) and is one of Ealing's best loved creations. Set on the Hebridean island of Todday during the Second World War and based on a true story, the locals are struggling with a nasty drought of whisky and no-one is too happy about it. So, when the SS Cabinet Minister – a goods ship bound for the Caribbean – runs aground off the coast of the island, and rumours spread about the presence of 50,000 cases of whisky in the ship's hold, the locals scramble to rescue the precious cargo. Ready to spoil their fun is the stuffy English Home Guard captain, who attempts to thwart their plans in the name of boring old law and order.
It's with the driest of humour that Whisky Galore encapsulates hebridean life with its gossip, romance, and ultimately its dependency on damn good whisky. The characters are whimsical and well acted, the atmosphere is adventurous and playful, and as with all Ealing Comedies there is a satisfying punchline. The restoration has been done lovingly, with few specks and scratches now visible, making this the best possible time for you to feast your eyes upon it. You must, must, must see this film. If you're a fan of British comedy, of adventure, classic storytelling or enjoying yourself thoroughly, you must see this film. I can't stress this point enough. YOU MUST SEE THIS FILM.
About The Author