Blur: No Distance Left to Run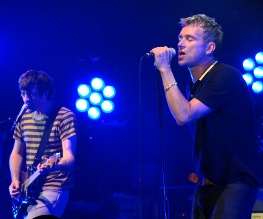 People may well go on about their Smiths, Clash and Sex Pistols, but for our generation, it was Blur that was almost solely responsible (along with the slightly more uncouth Oasis) for our initiation into the world of British rock music. It's a powerful moment in a young adolescent's life – when they realise there's more out there on the radio waves to be enjoyed than Westlife and the Spice Girls, songs that take, yes, talent and intelligence to produce, that evoke real emotions in you and stay with you forever. That's the way millions of Gen X's and Y's feel about Blur, and it's why they'll go to see this new documentary by Dylan Southern and Will Lovelace that chronicles the band's temporary reunion for a series of tour dates in 2009 and celebrates their past.

Sunrise, sunset
Using the traditional rock-and-roll-documentary format of interspersing vintage footage with present-day reflective interviews, the film takes us back to the first meeting of lead singer Damon Albarn and guitarist Graham Coxon at primary school in Essex. From there, it charts the creation of the band, their ascension from the back-room-of-a-pub world of indie rock to pop superstardom, their painful break-up that came chiefly as a result of Coxon's alcohol abuse and the repairing of their fractured friendships for the 2009 reunion. All stuff that's pretty typical of this genre, but if you grew up in the '90s, you can't help but get involved and more than a little nostalgic.
The devil in the detail
It's clear from their filmmaking that Southern and Lovelace belong to this generation too – along with the typical rags-to-riches narrative, they pepper the band's tale with glorious '90s references like the public battle between Albarn and the Gallagher brothers for the Britpop crown. The shots of the band's reunion performances at Glastonbury and Hyde Park are also particularly arresting, and put you right in the thick of their enduring popularity. As with most rock band documentaries, it's a little hero-worshippy – the question of Albarn's drug problem also being a contributing factor to the band's instability is skated over, as is Blur's involvement with Tony Blair and the New Labour movement. That's obviously because the two directors want this piece to be about the music and the music alone, a fact we can respect even though it might make for considerably less meaty viewing.
If you're a fan of Blur and the '90s Britpop sound, if it defined your future musical taste and started your education into the world of indie rock, like us, you'll get a kick out of this film. If not, it's still an interesting look at the psychological impacts of fame, but the full impact might be lost on you.
What did you think about the Blur film – a rollicking trip down rock and roll memory lane? Or did it put its subjects on a pedestal a little too much?
About The Author