Julie Delpy to direct Joe Strummer biopic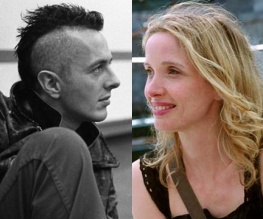 There have already been three documentaries about his life, but now actress, director, writer, producer, editor, composer and anything else you can think of Julie Delpy is to take the helm for the first biopic of iconic punk frontman Joe Strummer.
Strummer was, of course, the vocalist and lead guitarist of The Clash, an English band responsible for providing much of the soundtrack of the late 70s and early 80s. He died in 2002 aged 50, 14 years after the band split.
Julie Delpy, whose film credits include a starring role in Before Sunrise and essentially complete creative control over her own 2 Days in Paris, intends to name her film The Right Profile (after a song on London Calling) and focus on the period in 1982 in which Strummer went into hiding. Shortly before the release of The Clash's fifth studio album Combat Rock, he disappeared and went to ground in France, where he subsequently ran the 1982 Paris Marathon after a training regime which allegedly consisted of ten pints the previous night.
It'll be interesting to see where the multi-talented and very musical Delpy goes with this lost period in Strummer's life. No word at all on casting, although with My Week with Marilyn (featuring a fantastic central performance from Michelle Williams) due to be released on Friday the bar is currently set pretty high for entertainer biopics. Watch this space, we guess…
Who would you like to see play Joe Strummer? Let us know below!
About The Author