Bonded by Blood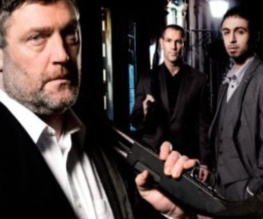 Bonded By Blood is the story of the Rettendon murders – a story that's been translated onto film before, but this one definitely does the job. Oh god, it's tasty. In 1995, drug suppliers and career criminals Tony Tucker, Patrick Tate and Craig Rolfe were blasted to death by a shotgun while waiting in a Range Rover in Rettendon, Essex.
Bonded By Blood is a sterling study of character and epoch as it charts the rise and fall of a bunch of major league Essex drug peddlars who fall foul of each other when they get sloppy from sampling their own product. Tony Tucker, Patrick Tate and Craig Rolfe were thuggish gangsters who turned Essex into their playground, but their brutality made them enemies among their own kind and they got offed with a shotgun while waiting in a Range Rover for a big deal to go down. Who killed Tony and his lads? The film puts the blame square on 'gentleman' smugglers Mickey Steele and Jack Whomes – who were done for the murders in real life, but have spent the last decade vigorously protesting their innocence to the point where people are almost beginning to believe them.
Bonded By Blood: Gangster history
From the onset of the brash, rancid warehouse choonz in the opening credits, you realise what you've done, and it's too late to backtrack. Yes, you're watching a British gangster movie. Not just Britain, mind you, but Glorious Essex – a country in itself, and it's probably safest not to forget it.
What's done is done. Settle back and wriggle with anticipation – though not if you're male and have an Essex Boy sitting next to you – and ready yourself for some genuine gangster history that's a bit cheeky, a bit visceral, a bit naff, a bit sign of the times… and the times, my happy little friend, are the mid to late nineties.
If you've ever been to an Essex nightclub or scoffed badly cut ecstasy while grabbing onto some half-naked Doris or tried to keep your Lacoste sweater all nice and clean while holding down a man choking in his own smear (smear… yes, enjoying that) you'll know exactly what 'the mid nineties in Essex' means.
Bonded By Blood: The Essex Boy Cometh
The rise of Tony and his gang before they get gunned down by downtrodden Mickey is partially seen through from the point of view of Mickey's little footsoldier, Darren Nicholls (Adam Deacon). He's our pair of eyes, is Darren. Our ghost, our zoom lens, our narrator… he's also a gobby but timid little gobshite who ends up doing odd jobs for smugglers Mickey Steele and Jack Whomes – the 'gentleman' smugglers who stand accused of killing Tate, Rolfe and Tucker.
The way Darren sees it, bigtime drug dealers Tony Tucker, Patrick Tate and Craig Rolfe are mental. They play a game with few rules. They love to partake of a bit of coke with no qualms whatsoever, they do. And crack. And ecstasy. And rum and coke, which seems a bit odd for big tough gangsters in Essex. But mainly the other kind of coke. The Bolly marching powder rules the hearts, minds, beaks and wallets of everyone it touches. Like American Express or a packet of condoms, or (if you're in WWII) a gas mask, you just can't leave home without it.
Tony Tucker (played venomously by Terry Stone, reprising his role in the original and not-nearly-so-good Rise of the Footsoldier) is the maddest of the lot. As his grip loosens on reality it tightens on the throats of any mug who gets in his way. Breasts are pinched, bottles are smashed, line after line is snorted as he and his cold-eyed cohorts have a cheeky little perk-up before the next round of intimidation and ultraviolence. He's got busy hands, that one…
Repeat after me: That bird is not a wife or a woman. She's a Doris.
Everyone's too afraid of Tony Tucker and his psychotic grip on the underworld to do anything but play along. But when he centres his paranoid speculations on Mickey, a soft-hearted smuggler and criminal businessman, the worm turns and Mickey plans a bloody retaliation.
Bonded By Blood: Rise of the Footsoldier reprised. But more better.
Bonded By Blood is a second attempt at the telling of the Rettendon murders in film. The first, Rise of the Foot Soldier, was poorly constructed – lots of little details at the expense of a bigger picture. ROTFS, best step aside and let the professionals through. The characterisation in Bonded By Blood is great, the dialogue cracks like a misused vertebra, and the film also serves as a map-marker for both a subculture and an era. Amid the tacky nightclubs and coked-up brutality you get a sense of how society, crime and drugs have shaped each other over the last forty years.
At the end of the day, what's it all about, Alfie? Is it really worth becoming a gangster just so you can die, go to jail, never fall in love, never be loved, wear sh*t clothes and live in an expensive but bloody nasty-looking crib? It's an interesting question, but it's one that calls on a level of morality Bonded By Blood never quite engages with – much like its cartoon characters, it's far too interested in criminal subculture and haha-its-grim-down-south-muckiness to care. And to be honest, so are we.
About The Author