Conviction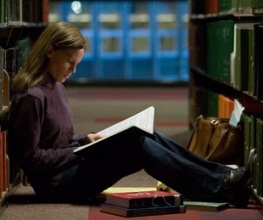 Betty Anne Waters (Swank) and her big brother Kenny (Rockwell) have a sibling relationship that edges into Freudian territory. The product of an unloving mother (Karen Young) and several years of being bounced in and out of foster homes, Betty and Kenny have spent the formative years of their lives looking out for each other, fighting each other, but at all times, loving each other.
[FLOWPLAYER=http://uk.image-1.filmtrailer.com/47919.jpg|http://uk.clip-1.filmtrailer.com/6024_17471_a_5.flv,275,180]
Having endured a difficult childhood, Betty and Kenny maintain their closeness despite gaining spouses. Kenny has a criminal record, and is effectively dragged into the local police station whenever a new crime is committed in the small town of Ayer, Massachusetts. The guys on the force know Kenny well. They even like the guy. But Kenny eventually finds himself making the wrong enemy in Police Officer Nancy Taylor (Melissa Leo). Despite being released after a lack of evidence over the murder of a local woman, Nancy won't give up the case. Two years on, new evidence emerges, and Kenny is sentenced to life imprisonment with no parole.
Betty thus embarks upon a remarkable journey to free her brother, putting herself through law school and becoming a single mother in the process, such is her faith in her brother's innocence.
Whilst a description of the film's synopsis requires you to break the story of Conviction down into childhood, murder and after effects, director Tony Goldwyn does a beautiful job of seguing between the different contexts of the story without any heavy handed reminiscing or day dream sequences. The intertwining narratives of Kenny and Betty's lives keeps you thoroughly engaged with their incredible story, and moments of hope and despair are balanced with heart wrenching brilliance.
I was always a fan of Sam Rockwell before I saw Conviction; I can talk about Moon until a cow jumps over it, and thought he was quietly masterful in The Assassination of Jessie James by the coward Robert Ford.. In Conviction he's simply awesome; Rockwell embodies the self-hating criminal with such assurance that we're left incapable of forming a sympathy with him – is he innocent or not? Rather than being a case of black or white, Kenny is a hard shade of grey, brutalised by a system that's always kept him at the bottom. It's a shame that he doesn't feature as heavily in the film as Hilary Swank, but this is primarily a story of Betty's pursuit of justice on behalf of her brother. Whilst Rockwell breaks your heart, Swank lifts you up with a display of determination and hope that's easily on a par with Rockwell's performance (although her accent does jangle the nerves at points). Again, her portrayal of Betty offers the viewer no easy avenue of sympathy and understanding; such is her denial that her brother is innocent that you're left questioning her judgement throughout her battle.
The truth behind Conviction's story leaves you feeling stunned by the end of a draining hour and forty. You can't love the people that this film is about, but that's all the more credit to the acting and direction of the piece. It's going to suffer from competing against the likes of Black Swan and The King's Speech, but if you have a spare tenner in your wallet and an evening to kill, go and see Conviction. Swank and Rockwell act themselves into a frenzy in a story that more than deserves your attention.
About The Author