Le Concert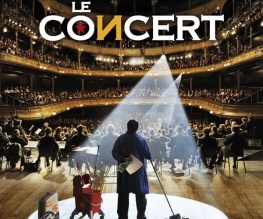 Writer requirements here at Best For Film Towers are pretty simple; know about cinema, get your round in and make sure you dislike Nicholas Cage. Nobody ever said you had to know about classical music, so when I set off to see Le Concert I was more than a little concerned that my general ignorance of all music pre-1958 would hinder my enjoyment of the film.
I needn't have worried. Le Concert is a film about an orchestra, certainly, but the music is an undercurrent which carries the story rather than the plot itself. Brimming with flawless performances from every corner of the pit, Le Concert is note-perfect.
[FLOWPLAYER=http://thecia.com.au/reviews/c/images/concert-le-concert-5.jpg|http://uk.clip-1.filmtrailer.com/3235_13902_a_2.flv,275,180]
The Muscovite Redemption
Le Concert follows the story of Andrei Filipov (Guskov), a former conductor of the prestigious Bolshoi Orchestra whose refusal to fire his Jewish musicians in the 1980s incurred the rage of the Party and saw him demoted to the status of a humble caretaker. After thirty years yearning to complete the concerto he felt born to conduct – a performance interrupted midway through by agents of the KGB – he intercepts a fax inviting the Bolshoi to play in Paris and sets about reuniting his disgraced orchestra for one last concert.
Aided by his cellist friend Sacha (Nazarov), Alexei has only a fortnight to assemble fifty-five musicians who lack passports, tuxedos and in some cases even their instruments, employing help from an asthmatic trumpeter, a gypsy violinist and even the Communist Party stalwart who originally broke his baton. The task seems impossible, but Andrei's motivation runs deeper than any of his friends know – the soloist (Laurent) who will lead their performance is someone with a deep and mysterious connection to the ex-Bolshoi and its shamed conductor.
A perfectly scored triumph
From the opening sequence in which Andrei imagines himself to be once more onstage, every shot of Le Concert delivers a fresh trill of humour or sombre note of pathos. Set against the twin backdrops of Moscow and Paris, by turns opulent and starkly down-at-heel, the audience is entranced by the enormity of Andrei's dream and the lengths to which his orchestra is willing to follow him. "Are you not still our leader?" asks one of his first disciples, and although the musicians are down-and-outs to a man they become something greater than the sum of their parts in a transubstantiative drama the likes of which I have never seen.
The lead cast is superb, with the partnership between the fanatically driven Andrei and shambling bear Sacha a particular treat. And whether or not you're a fan of classical music, I defy you to be unmoved by the exquisitely constructed score, which leads inexorably towards the climactic performance which is the literal crescendo of the film. Le Concert could so easily have been overlong or too focused on the gravitas of its own storyline, but instead it soars and dives through the tangled skein of emotion surrounding the cast as delicately as does the concerto which drives Andrei and, ultimately, the whole film. I honestly cannot envisage of a way in which Radu Mihaileanu's enchanting vision could be improved, and if anyone reading this has spent the last ten years assuming that nothing will beat X film or Y film in your estimations then I urge you to see Le Concert. Your eyes, ears and heart will be opened.
About The Author