Michael Caine to join cast of Now You See Me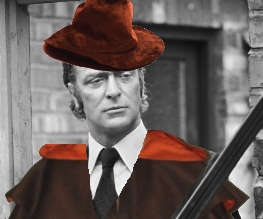 Michael Caine has been added to the bizarrely star-studded list of names associated with the upcoming heist movie Now You See Me. The film is said to follow the eternal duel between the FBI and criminal wizards (well, magicians) who steal things during their shows.
Caine will take the role of Arthur Tressler, the magicians' sponsor, or as we have arbitrarily decided: King Wizard. Other notables on board include Mark Ruffalo, Jesse Eisenberg, Morgan Freeman, Isla Fisher, Melanie Laurent and Woody Harrelson.
Look, Michael, Woody Harrelson's still youngish and we're pretty sure at this point Morgan Freeman is just an empty vessel whose sole mission is to get his smoked mahogany voice onto as much celluloid as possible, but come on. It's a harsh truth, but you've got a few great films left in you and, unless you are genuinely playing a wizard king, this is a waste of time.
We live in a world where time has claimed Ian Richardson, Peter Hammond and Elizabeth Taylor, yet Bruce Fucking Forsyth continues to draw breath. Life's not fair and people don't get to keep going just because they're amazing. What we're saying is don't waste time with rubbish movies. Either that or get a shotgun and go Harry Brown on Brucie's leering shit-stain of a face.
About The Author