Leaving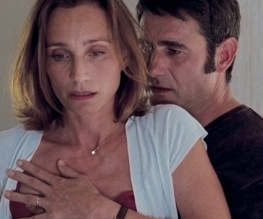 A sudden love story
Kristen Scott Thomas stars as Suzanne, a serene wife and mother whose passion for life has long since been extinguished by comfort, routine and lots of clean, shiny-white surfaces in her French home. After 15 years of service to her family she decides that she wants to run her own business, converting her out-house into a physiotherapy salon. Her husband, an excessively sighing doctor-type (Yvan Attal), reluctantly agrees to pay for the renovation. His dismissive manner with the Spanish construction workers pricks Suzanne's conscience to the point where she begins helping out with the hard work herself, and meets Ivan (Sergi López) – a labourer with whom Suzanne feels an instant, unexpected connection. As a love affair blossoms between them, Suzanne is forced to ask herself how much she will give up for a man she barely knows, as well as confronting the grim reality that all she has may not be hers to give away.
Unforgiving and unmissable
With a different director and cast, Leaving could be a fairly take-it-or-leave-it tragi-romance about yet another frustrated housewife who finds sexy comfort in the rippling arms of a burly gent. But thankfully, Leaving's unflinching attack on the picturesque means that we see the unglamourous truth of an extra-marital affair, complete with greasy walls, distraught families and ever-pressing jealousy. Kristen Scott Thomas is heart-achingly lovely as the fragile Suzanne; a woman who feels as though she has finally woken up from a deep sleep and is terrified that she'll be forced back into her coma. After spending a night with her lover she grins, sleepily joking "you'll have to banish me, or I'll never leave". Luis's reply (also a joke?), "Go then, leave," utterly, utterly destroys her, and an unforgiving close-up shows her sudden, unstoppable panic at the thought of losing him, as well as surprise at the strength of her own emotion. It's by no means easy watching, but it's a truly brilliant performance all the same.
How bright young things…
Ultimately, Leaving highlights both the strength and fragility of sudden, bright passion – how it can change you utterly, and yet cannot alone sustain you. In a lovely, isolated scene, Suzanne is lying alone peacefully on the grass when a wasp flies down her top. Screaming in sudden panic and fear, she rips off her t-shirt and flaps about wildly, before bursting into laughter at the joyful foolishness of the situation. In this scene – and indeed throughput – Leaving seems to passionately proclaim that feeling something, anything, with real and terrible strength is better than serenely feeling nothing. But far from being an easy answer, this is a film that shows the tragic consequences of its own philosophy, leaving the audience feeling as broken by the experience as Suzanne herself.
About The Author