Ondine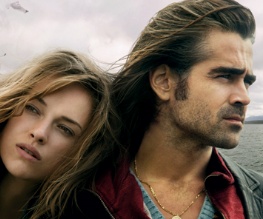 Love blossoms when a father least expects in Neil Jordan's modern day fairytale. Blessed with pretty shots of the Irish coast and a close-knit fishing village where everyone pokes their noses into their neighbours' business, Ondine is a picture postcard to the Emerald Isle. British audiences who struggle with a thick accent would probably benefit from subtitles when characters chew the fat, so some of Jordan's script is lost to the Atlantic breeze. In truth, it's not a great loss because for all the blah blahrney, we learn very little about the protagonists or their passions, and the central romance is rather wet – like the actors after a tumble in the briny.
Something fishy about this girl…
[FLOWPLAYER=http://uk.clip-1.filmtrailer.com/4104_10560_a_3.flv,275,180]
Irish fisherman Syraceuse (Colin Farrell) is struggling to raise his young daughter, Annie (Alison Barry), who requires regular kidney dialysis and conserves her energy by travelling around in a motorised wheelchair. The father has successfully shaken his dependency on drink and is attempting to become a better man with the help of the local priest (Stephen Rea), who despairs, "I've told you before: confession is NOT a chapter of AA"; Casting out his nets, Syraceuse captures a beautiful woman called Ondine (Alicja Bachleda), who appears to be dead. Oh dear. Thankfully, Syraceuse manages to resuscitate her and takes Ondine back to shore. "Are you one of them asylum seekers? Swam all the way here from Arabia?"; he enquires but Ondine appears to be suffering from amnesia.
Installing the stranger in his mother's empty cottage, Syraceuse develops affection for Ondine and over time the pair falls in love. Annie begins to suspect that the enchanting, new addition to her father's life may be a mermaid-like water spirit called a selkie, who is able to grant a wish. Syraceuse tries to keep his feelings in check and to maintain a civil relationship with his booze-sodden ex-wife Maura (Dervla Kirwan) and her new boyfriend, Alex (Tony Curran). "I know something's going to happen: something wonderful… or terrible,"; Syraceuse confesses to the holy man. And so it does.
A watered down tale
Ondine treads water, signalling its intentions early on but only driving the narrative forward in the final 20 minutes, resulting in a hurried denouement when the water spirit shows her true colours. Farrell isn't stretched in his lead role and he only sheds one or two tears for his sickly child. Kirwan and Curran are plot devices to create friction, and the striking Bachleda remains an enigma throughout. Meanwhile, Barry is a delight as the precocious whippersnapper, who takes Ondine shopping and warns her not to expect much from the local shop because,"this town is what you call sartorially challenged"; Jordan matches the gentle pace of village life for Syraceuse and co with a plodding and pedestrian film that takes its own sweet time to state the obvious.
Did Ondine make waves with you? Or was it a little damp in your opinion? Let us know!
About The Author