Chloe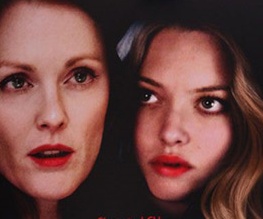 Director Atom Egoyan probes the destructive power of obsession in this English language adaptation of Anne Fontaine's 2003 film, Nathalie. Shot on location in wintry Toronto, which is almost as cold as some of the characters' emotions, Chloe charts the journey of sexual re-discovery of a despairing wife whose marriage has been stuck in a rut for years. The method she chooses to reinvigorate her ailing relationship is unorthodox to say the least, unlocking deep-rooted desires that put not only herself but also her entire family in danger.
Family Values
Successful gynaecologist Catherine (Julianne Moore) is fed up with the seemingly endless liaisons of her college professor husband, David (Liam Neeson). Unable to stop David's roving eye, Catherine approaches sexy prostitute Chloe (Amanda Seyfried) with a curious proposition. "My husband's cheating on me, at least I think he is"; the wife informs Chloe. "I want to find out what he does if you present yourself to him"; So Catherine pays the young woman to seduce her man and report back on their amorous activities, delivering detailed verbal reports of every furtive glance and touch. The wife persists with the plan and is shocked and aroused by Chloe's accounts of an encounter in a deserted greenhouse. "We've taken this as far as I want this to go"; the wife tells Chloe but the prostitute refuses to be discarded, developing an unsettling interest in Catherine's teenage son, Michael (Max Thieriot). Once scriptwriter Erin Cressida Wilson performs the sleight of hand that shifts the dynamics between characters in an alarming new direction, the film strays disappointingly into the realms of Fatal Attraction. A lingering final shot – a counterpoint to the opening sequence of a young prostitute dressing herself for 'business' – provokes a wry smile, leaving us to contemplate the fate of each family member as they come to terms with their transgressions.
Forbidden Pleasures
For audiences who haven't seen Fontaine's original film, Chloe promises many sensual delights as the prostitute beguiles her married client with her torrid antics. Egoyan steams up the screen by intercutting shots of Catherine in the shower with Chloe's greenhouse confessional, building to a climax as husband and wife simultaneously lose themselves in the moment. Moore cuts a pitiful figure as a career woman who barely speaks to her husband or son, and finds comfort in the intimacy that develops with Chloe. Neeson remains on the periphery and Thieriot perfectly embodies the truculence of a teenager rebelling against parental control. Seyfried looks stunning, but she seems a little too naive and fresh-faced to really make a living on her back, or as she poetically puts it, "I can become your living, breathing dream… and then disappear"; Just like Egoyan's film.
Were you seduced by Chloe? Or was it lacking in comparison to the original? Let us know below!
About The Author