The Conspirator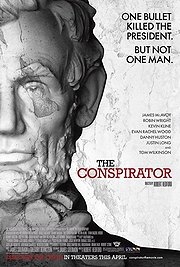 On paper, The Conspirator sounds shaky at best. The talent of director Robert Redford and stars James McAvoy and Robin Wright is not in doubt, but I must confess to being unconvinced that any of them could breathe life into the story of a 150-year-old trial which, inevitably, is far less important and emotionally engaging for UK audiences than it is for our transatlantic cousins. Happily, The Conspirator turned out to be pleasantly surprising – it's less gripping than it thinks it is, but there's plenty to appreciate in this complex and intricate tale.
[FLOWPLAYER=http://uk.image-1.filmtrailer.com/73281.jpg|http://uk.clip-1.filmtrailer.com/7356_22828_a_4.flv,275,180]
The year is 1865 – the end of the American Civil War is in sight, and decorated officer Frederick Aiken (McAvoy) is relishing the prospect of hanging up his spurs and returning to legal practice when the country is shaken by the shock assassination of President Abraham Lincoln. Confederate sympathiser John Wilkes Booth (Toby Kebbell) is accused of the murder but refuses to give himself up and is killed, robbing the American people of the chance to properly exorcise their collective demons by hounding him to the gallows and forcing the ruthless politician Edwin Stanton (Kevin Kline) to cast around for a scapegoat. Booth's alleged co-conspirators are gathered up for a military show trial – but among them is respectable widow Mary Surratt (Wright), the mother of Booth's missing right hand man.
Aiken's employer and mentor, a Senator whose Southern origins have put his trustworthiness in doubt, assigns Surratt's case to his young protegé. As a hero of the Union army and a passionate supporter of Lincoln, Aiken is horrified to be defending a woman who he considers guilty as sin – so horrified, in fact, that he begs to be allowed to surrender the case if he can privately prove Surratt's guilt. However, as he digs deeper into the Surratt family's background Aiken becomes increasingly doubtful of his client's guilt; and his moral sensibilities are outraged by the depths to which Stanton is clearly willing to sink to ensure a guilty verdict. The fledgling United States had never executed a woman. Was that about to change, even at the expense of the civil liberties which had so recently provoked bloody civil war?
The Conspirator is totally immersive. 19th Century Washington D.C. is vividly realised, with a slight sepia tone that I may have totally imagined (if I'm imagining sepia they must be doing a bloody good job) washing out the colours just enough to give everything a sheen of authenticity. The script is appropriately dated without slipping into improbably antique language, and the solemn and string-heavy score (by long-time Redford collaborator Mark Isham, who also composed for A River Runs Through It and Lions for Lambs) builds the tension when the cast are too busy being upstanding and soberly cravated to do it themselves.
This should not, however, be construed as a criticism of the performances, since they – and in particular James McAvoy's impassioned, frustrated Aiken – tie the film together. Coming as it does so soon after the release of X-Men: First Class, The Conspirator continues to demonstrate McAvoy's spectacular range – although his accent wobbles on occasion, he embodies the conflict between Aiken's twin vocations as soldier and lawyer with consummate skill. Robin Wright's pious and reserved Mary exudes dignity without slipping into caricature, making the moments when her demure mask slips all the more troubling, and Kevin Kline is both imposing and frightening as the indefatigable Secretary Stanton.
This is not a perfect film – it's overlong, repeatedly reliant on shoehorning historical detail into moments of stilted dialogue, and occasionally too determined to force its authentically Redfordian liberal message down the throats of the audience. Nevertheless, The Conspirator is well-constructed, well-intentioned and filled to the brim with enjoyable and believable performances. You may not give a toss about who shot Lincoln, but to dismiss this film out of hand would be to do yourself a disservice.
About The Author