The Runaways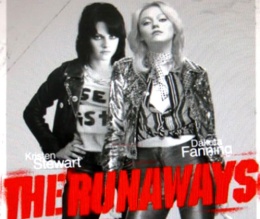 When all-girl band The Runaways crashed onto the airwaves in 1976, they ripped up the rulebook with their bared, lipstick-smudged teeth. Their reign was short-lived, but thirty-five years later their brief recording career is recognised as a turning point in the development of rock'n'roll. A biopic was overdue, and now the Runaways' story is finally being told I don't think even the most obsessive fan could object to this film's achievements. Combining hypnotic attention to detail with the lead cast's career-defining performances, The Runaways draws the viewer inexorably into the guts, glamour and grime of the world of hard rock – a world which belonged to men when The Runaways entered it, but not when they left.
[FLOWPLAYER=http://uk.image-1.filmtrailer.com/42614.jpg|http://uk.clip-1.filmtrailer.com/4442_15293_a_5.flv,275,180]
The year is 1975, and Suzi Quatro is the first lady of rock'n'roll. Frustrated rocker Joan 'Jett' Larkin (Stewart), whose guitar tutor says girls only play acoustic, accosts superstar record producer Kim Fowley (Shannon) outside a club and tells him of her ambition to form an all-girl band. Kim introduces her to Sandy West, a drummer with the same idea, and The Runaways are born. Originally a power trio, they decide to look for a Brigitte Bardot-esque frontwoman and find Cherie Currie (Fanning), Bowie fan and refugee from a broken home. After paying their dues and dodging bottles in filthy venues across California, The Runaways are signed and embark on a hectic lifestyle of tours, tantrums and drugs. Lots of drugs.
The Runaways follows the band from the penning of their very first song, 'Cherry Bomb' (written about Cherie Currie at her audition) through the highs and lows of their fifteen minutes in the spotlight. Concentrating on the charismatic but ultimately unstable sex kitten Cherie, the film offers insights into the decidedly unglamorous balancing act she was forced to perform, flitting between a fast-paced show-business career and her quietly collapsing family until she finally snapped under the enormous strain of her two lives.
Meanwhile,
gritty proto-punk Joan wants nothing more than to have The Runaways' music appreciated for its own sake rather than because of the band's gender, and Cherie's naïve acceptance of her objectification by the media leads to increasing levels of conflict within the group. "Publicise the music, not your crotch!", Joan growls after a particularly risqué photoshoot comes to light during their sellout Japanese tour. The whole house of cards is plainly on the verge of collapse, but there is nothing the girls – or the audience – can do but watch and wait for the car crash that The Runaways' uncontrollable success is inevitably going to become.
As authentic as biopics get
The time and effort which must have gone into making The Runaways an authentic snapshot of the 70s cannot be overstated. Innumerable sets and costumes can be matched exactly to photoshoots and recorded gigs from the period, and the soundtrack is beautifully pitched to evoke the smouldering, riotous music scene which gave birth to Joan and her contemporaries. Consistent set dressing, however, is rather less than half the battle, and a biopic without compelling leads is not worth watching.
Happily, The Runaways stars two actresses whose CVs will never need another addition, so compelling and impressive are their performances in this film. Dakota Fanning, at 16 the same age as Cherie when she was thrust into the spotlight, is absolutely hypnotic as the awkward outcast who is determined to reinvent herself as a rock goddess but ends up as a refugee from her own lifestyle, and Kristen Stewart decisively sheds the stigma of her Twilight appearances with an aggressive and driven portrayal of Joan Jett for which she has been acclaimed by the artist herself.
The Runaways would, alas, have benefited from being twenty minutes longer – several promising subplots are left unexplored and key bandmember Sandy West is cruelly underused, although the script's roots in Cherie's autobiography does go some way to explaining its angle. Nevertheless, it is a well-made and supremely watchable film which easily rivals biopics such as Sex & Drugs & Rock & Roll in its believable portrayal of the highs and lows of life in the spotlight. Whether or not you're a fan of their music, The Runaways is a must-watch.
About The Author