War Horse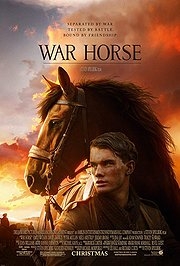 Having discovered the secrets of the unicorn, Steven Spielberg leaves his motion capture fancies aside in order to tell the story of an ordinary horse; so ordinary, in fact, that he's called Joey. This being one of the director's intermittent serious outings, we are naturally back at war; and Joey's equine perspective gives Spielberg the perfect opportunity to explore the First World War from both sides of the battlefield.
Tired of watching his greedy landlord get everything he wants, alcoholic veteran Ted Narracott (Peter Mullan) uses his family's savings to outbid him on a horse at the village market. With the horse poorly matched for its new ploughing duties and Ted once again incapacitated by self-pity, it is left to only child Albert (Irvine) to train the horse and save the farm. When his efforts prove insufficient and Ted is forced to sell Joey to the cavalry so that he can pay rent, Albert vows to join the army and pursue his horse as soon as he is of age. Under the care of everyone from Captain Nicholls (Hiddleston) to two young deserters and an ageing grandfather (Niels Arestrup), Joey weaves in and out of battle as he touches people's lives on both sides of No Man's Land (and even within No Man's Land as well). When Joey is commandeered by the German army and Albert  finally arrives on the front lines, however, it looks like they might be doomed to be apart forever.
The first twenty minutes of War Horse looks to be exactly how you've imagined it; a pretentious and award-baiting epic hanging on the conceit that you have always wondered what the First World War might have looked like through the eyes of a horse, set in a Babe-like universe where geese chase bad people and animals are more than just jittery bags of reflexes. Happily, all this changes the moment that war is declared and the Devon countryside is traded for the war-torn fields of Europe. The twee accents and comedy sidekicks of the first act instead give way to death, destruction and harrowing devastation. Nobody films war quite like Steven Spielberg, and while there may be slightly less viscera on show than in Saving Private Ryan, War Horse nevertheless contains some of the most brutal and intense war sequences you are ever likely to see in a 12A movie. Captivating, compelling and utterly unrelenting, this is where the film really comes to life.
Comprised essentially of a number of episodes, it is the fleeting moments and numerous character arcs in War Horse that really sell its genius. Spielberg's eye for striking visuals come to the fore in the latter half of the movie, whether it's a cavalry charge in the vein of The Lost World's raptor assault, a shocking massacre artfully obscured by a rotating windmill blade or simply a curious farm girl reflected in a horse's eye. What might have been a tiresome crawl through multiple storylines is instead a heartbreaking and dizzyingly sentimental cross section of disparate lives, best encapsulated by a delightfully absurd meeting in No Man's Land.
But we need to talk about Joey. While the likes of David Thewlis and Benedict Cumberbatch delight in their limited screen time, gifted as they are with recognisable facial expressions, it is upon the homogeneous hide of Joey (or the 14 horses which play him) that the success of the movie depends. A scattering of ominous inter-horse glances notwithstanding, Spielberg rarely tries to anthropomorphise his star, instead cleverly relying on cinematography and the technical aspects of filmmaking to compensate for the long faces at the centre of it all. What could have been a churlish and unpalatable exercise in equine manipulation instead falls back on something altogether more effective: Spielberg's own storytelling prowess and John Williams' swooning score.
Though it may be touch and go to begin with, War Horse will invariably have you eating out of its hand by the time the end credits roll. By no means perfect, Spielberg's latest is instead a masterfully crafted, lovingly shot and beautifully acted tale of friendship and bravery from the master of family entertainment himself. You've never seen a horse movie like it.
About The Author