The Girl with the Dragon Tattoo: DVD Review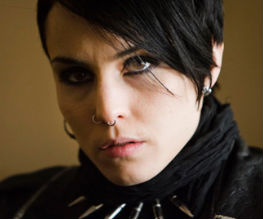 A tattooed tale
The story follows journalist Mikael Blomkvist (Michael Nyqvist) as he is enlisted by Henrik Vanger, the elderly CEO of the family run Vanger Enterprises, to investigate the 40 year long disappearance of his favourite Grand-niece, Harriet. Meanwhile, bisexual gothic computer hacker, Lisbeth is tracking Mikael's computer activity, following Blomkvist's investigation. Eventually, the unlikely pair team up to expose a corruptions more deep and violent than anything that they could possibly imagine.
A great film – but…
Oplev's film has been heaped with praise, and rightly so. He manages to condense the multi-layered 500 page plot into an engrossing 152 minutes that never feels too long, and stays remarkably true to the source material. Excellently paced and superbly acted, it is undoubtedly a triumphant adaptation of Larsson's novel, deftly exploring its theme of male-violence and its effects on women. And yet for all its good qualities, one can't help but think the only thing that sets it apart from other thrillers out there is Lisbeth.
All about Lisbeth
Noomi Rapace puts in an electrifying performance as the unique heroine, her hard edges cutting through the film and the viewer as she bristles with righteous anger. An intriguing mix of altruism and vindictiveness, Lisbeth is one of modern cinema's greatest heroines and it is the mystery surrounding her rather than the disappearance of Harriet Vanger that keeps the audience watching.
The vital, tattooed ingredient
With the bland Blomkvist and the slightly uninvolving storyline, The Girl with the Dragon Tattoo could easily have been just another competent, well executed Thriller. It is Rapace's Lisbeth that transforms it into something so much more: a compelling and arresting movie experience.
DVD Extras
– Includes both original Swedish and English Language Audio
– Exclusive sneak peak of The Girl who Played with Fire
– Interviews with Noomi Rapace (Lisbeth Salander) and Producer Soren Staermose
– Photo Gallery
About The Author