The Hangover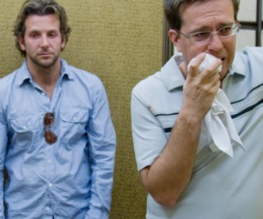 The Hangover is the latest in a steady stream of 'bromance' comedies that have been infiltrating the cinema since Anchorman and Knocked Up were surprise hits, so you pretty much know what you're in for when you rent this film from your local Blockbuster. Some gross-out humour, a few streams of colourful language and the general roguish hijinks of boys being boys. In other words, something which you can mindlessly sit down in front of, have a few laughs and, well, recover from your hangover on a slow Sunday afternoon. The title says it all. That said, this film was quite the box office triumph when it hit cinemas, as word spread that it was a cut above most idiotic frat boy comedies.
So what are the boys up to this time?
The film is centred around three groomsmen who wake up from a heavy night in Vegas at a bachelor party to find they've misplaced the groom. Naturally, their journey to retrace their steps and find their friend ends up involving a stripper, a quickie wedding, Japanese gangsters and a stolen tiger. This plotline called to mind for us that most mindless of bromances, Dude, Where's My Car?, but like many who went to see the film at the cinema we were persuaded by countless recommendations that The Hangover was sharper and a whole lot funnier.
Laugh until you…stop.
Upon finally viewing this film, we were a little underwhelmed. Certainly there's enough to enjoy – for the ladies, there's Hollywood's newest man about town Bradley Cooper to stare at, and bringing more general appeal to the mix are the relatively unknown but surprisingly hilarious Ed Helms and Zak Gafilianakis. The latter particularly shines as the groom's eccentric brother-in-law with an interesting taste in undergarments. We foresee a Paul Rudd-esque string of scene-stealing comedic wingman roles in his future.
But is it really as funny as everyone says? In our opinion, no. There were mild, if predictable, laughs all the way through, but none of the crazy, side-splitting hysterics of, say, an early Vince Vaughn/Will Ferrell gem. (The only exception – a genuinely amusing cameo involving Mike Tyson and a little Phil Collins karaoke). Regular viewers of this genre, especially after all the hype, will likely be disappointed. But if you're looking for something that's an easy watch when you're camped out by the TV with a bacon sandwich, nursing a similar level of pain to the film's protagonists, you could do worse.
Special Features
Featurettes
Gag Reel
Two-Disc DVD set includes digital copy
About The Author