Mugabe and the White African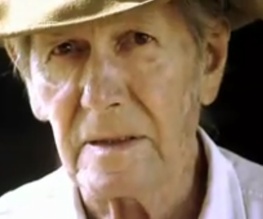 There are few stories more tragic amongst the perpetually unstable African political landscape than that of Zimbabwe. Since coming to power in 1980, then a respected leader who had the full support of the Western world, Robert Mugabe's subsequent wrecking of the country's financial system and continuing campaign of terror and criminality has shocked us all. A brief hope that the dictator would finally be ousted after he lost the 2008 election was quickly squashed after his usual tactics of violence and intimidation forced rival Morgan Tsvangirai back into silence. This heartbreaking and enraging new documentary by Andrew Thompson and Lucy Bailey is a portrait of a local family under siege as a result of the regime, this time seen through the eyes of an oft-overlooked category of Mugabe victims – the white African.
Courage under fire
The documentary follows the trials of one family willing to stand up to the corrupt system. 75 years old and a grandfather, Michael Campbell has been a farmer in the country for years and has raised a family with his wife Angela. Since 2000, when Mugabe brought in a land seizure program to reclaim white-owned farms and reallocate the land to party officials and supporters, Campbell has lived in fear for his life and livelihood. In a daring attempt to cling onto what is rightfully his, the farmer charges Mugabe with racial discrimination and violations of his Human Rights, and takes his case to the South African Development Community international court. Filmmakers Thompson and Bailey (who have previously documented similar human rights struggles in Iraq and Afghanistan) follow this fascinating battle of wits and its typically tragic end.
A rare insight
Since Mugabe and his followers have instituted a complete ban on press to restrict the flow of news out of the country, it's a miracle when footage on such a subject even makes it out of Zimbabwe. What's more incredible is that the filmmakers risked imprisonment to work with proper-size cameras, recording devices and a full sound crew, delivering a large-format experience as opposed to the grainy hidden-camera footage that most pieces on Zimbabwe are usually comprised of. This makes every moment of Campbell's struggle seem all the more immersive and thus all the more awful. Particularly rage-inducing is the scene in which a party official turns up in his luxury car to seize the farm, and the harrowing exchange that follows between he and Campbell.
It's easy to become momentarily enraged at the situation in Zimbabwe from reading a brief news story in the World section of the paper, then quickly forget about it again. But what this rare film does is show us a detailed, personal story of one man and the hell he goes through at the hands of Mugabe that makes it impossible to turn away. Although it may be taboo to think so in post-apartheid, post-colonialist Africa, Thompson and Bailey's piece also allows us to think of white settlers as just as legitimate a part of the continent as black Africans, and arguably just as much a victim of racism as their black counterparts. It's deservedly been shortlisted for Best Documentary at this year's Oscars – here's hoping it can take home the award and direct some more much-needed world attention to the country's situation.
How did you find Thompson and Bailey's different angle on the atrocities being committed in Zimbabwe? Leave us your thoughts.
About The Author