Ramona and Beezus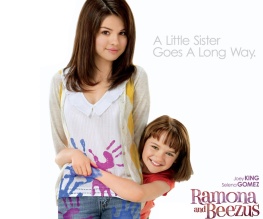 It was a grey day in half term, and I hate children – some would say that heading to the cinema to see a kids' film wasn't the best plan. Imagine, then, my astonishment when I realised that Ramona and Beezus in no way adhered to my expectations of a film about the adventures of a cutesy tween and her little sister – although I entered the theatre with my scorn glands in a high state of readiness, I soon found myself giggling along with both the cast and the audience.
[FLOWPLAYER=http://uk.image-1.filmtrailer.com/44820.jpg|http://uk.clip-1.filmtrailer.com/4387_16252_a_5.flv,275,180]
The story centres on the improbably attractive Quimby family – specifically, mischievous 9-year-old nuisance Ramona and her big sister Beezus. Or Beelzebub. Or something. Based on the popular series of American children's books by Beverly Cleary, Ramona and Beezus follows what happens when the dad (John Corbett) is made redundant and the family face losing their home. Ramona (King) who is refreshingly charming without being saccharine, takes it upon herself to raise funds for the family in predictably haphazard fashion. Meanwhile, Beezus (Gomez) has discovered boys but is waiting for them – particularly her crush Henry (Hutch Dano) to discover her, ideally before they discover Ramona too.
King, who gets some of the best lines in the film ("Who could love a girl named Beezus?!" "Jesus?") plays against the under-10 female stereotype by making Ramona clumsy and accident-prone rather than beribboned and smugly sweet. Meanwhile, squeaky clean Selena Gomez marks her departure from the Disney Channel with a convincing Beezus, playing the (somewhat underwritten) frustrated-but-doting-big-sister role with panache. The story is not hugely eventful, but this is no problem for the cast who carry it well using a genuinely credible family dynamic. However, one can't help but think that there are a few too many character subplots inserted to over-compensate for the easy-going storyline, and that perhaps the role of Beezus deserved to be as well-written as that of Ramona.
The plot trundles along pleasantly enough and is a refreshingly uplifting and relevant adaptation of the rather dated books, with its portrayal of the friction generated within a family under financial strain – it may not translate perfectly to the big screen, but the timelessly 'everygirl' characters make the jump just fine. It's particularly pleasant to see a film which effortlessly entertains both the children it's nominally aimed at and the supervisory adults who would perhaps rather be seeing Black Swan – whilst some kids films are impossibly lowbrow and others try too hard to tickle the parents, Ramona and Beezus manages to bridge the divide more comfortably than most. The ending is, admittedly, rather sugar-frosted, but without a fairytale finale there would have been no opportunity for Beezus to get her first kiss, or Ramona's usually stiff and proper teacher to throw some shapes! So that's alright.
The 10 year old girl behind me evaluated the ending far better than I have, with 'Sheesh… love. Yuck!' Yucky it may be. Nevertheless, it's worth clinging onto the fact that this is a kids' film which is tolerable for those who are over the age of 15 and fill with rage every time they hear the opening bars of High School Musical. You could do a lot worse.
About The Author