Love Is All You Need
Here's a challenge for you: picture a romcom about attractive, middle-aged people finding love after heartbreak that's not by Nancy Meyers (aka the devil woman behind Something's Gotta Give and It's Complicated). Tough isn't it? Right now all you can think about is an immaculately coiffed Meryl Streep walking along a beach in beige linen, eating salad in her expansive white mansion and having too much sex. Luckily for you (and for cinema-goers at large) though, the Meyers style appears to be on the way out – that's if Susanne Bier's new film is anything to go by.
Ida (Dyrholm) is a forty-something hairdresser in a convincing blonde cancer wig. With her disease in remission and her life finally back on track, Ida comes home one day to find her husband Leif (Kim Bodnia) having his end away with a nubile young colleague. Putting her feelings aside to attend her daughter's wedding in Italy, Ida has a chance encounter with aloof businessman Philip (Brosnan) who, surprise surprise, turns out to be the father of her future son-in-law. Once in Italy, with Philip desperate to avoid his dead wife's flirtatious sister Benedikte (Paprika Steen) and Ida mortified when Leif turns up with his new girlfriend, the two form a tentative friendship that quickly develops into something more.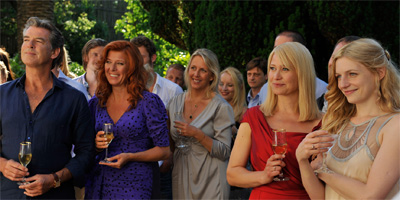 It's perfect romcom territory. The setting is a verdant, sun-drenched paradise, complete with lemon orchard, rustic, shuttered villas and idyllic beaches. On a basic level, Bier's film is a piece of expertly executed wish fulfilment that indulges the fantasies of its audience, inviting us to throw caution to the wind, book a ticket to Italy and take a chance on love. Underneath that, though, runs a sophisticated, bittersweet story that's all about the small tragedies most of us live with on a daily basis. And it's not just the stoic Ida or the traumatised Philip who are struggling to keep on a brave face. Young couple Astrid (Molly Blixt Egelind) and Patrick (Sebastian Jessen) are grappling with pre-wedding jitters, caused by the groom-to-be's sudden crisis of identity.
In one of the film's most poignant sequences, Patrick delivers a heartfelt speech, thanking his guests and toasting his beautiful fiancée, and begins to cry for reasons he is too ashamed to admit – these aren't tears of joy but of confusion, fear and guilt. Even the incidental characters carry their own burdens. Benedikte's daughter is your typical sulky teen, but it isn't long before we realise how much this is tied up in the behaviour of her selfish mother.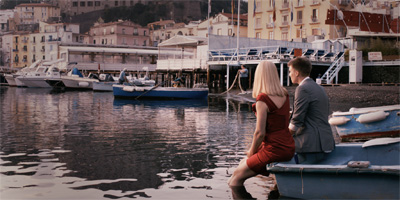 What it comes down to is that Bier is invested – and wants her audience to be just as invested – in the ensemble, not just the two leads. Thus, each character is pitched perfectly. Steen is hilarious as the grotesque, narcissistic Benedikte, while Jessen and Egelind are sympathetic and authentic as the young lovers. Unsurprisingly, though, the person who really shines here is Dyrholm. Breaking free of stereotypes, Dyrholm's Ida is radiant; brilliantly rounded, effortlessly likeable and not defined by one easily identifiable characteristic. An early moment where Ida is humiliated by her wig slipping off is set against a later scene where she swims, naked, wigless, and alone, striking out against the cold current. Elsewhere, the woman who clumsily breaks a drinks machine at the airport becomes the wise, worldly mother, comforting her children when they need her most.
You wouldn't be surprised at the direction this film moves in. It is, for all intents and purposes, a romantic comedy; unavoidably bound to a certain path by the constraints of its chosen genre. But what Bier illustrates is that within the confines of the familiar, something original and even occasionally surprising, can flourish. Refreshingly free of sentimentality or cliché and refusing to endorse the happy-endings-for-all approach that a less sophisticated film would go in for, Love Is All You Need is a delightfully diverting piece of escapism that is built upon a great deal of warmth and honesty. What's more, there's no beige linen in sight. Time to move over, Meyers. Bier's in town.
About The Author