No Strings Attached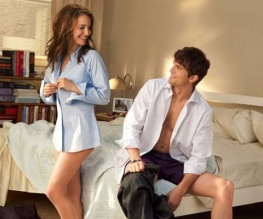 It's been a while since Natalie Portman has let her hair down and made a film which didn't have something to say – ever since Mister Magorium's Transylvanian Petshop she's been busting out gnarly performances with tiger blood skill. All this is about to change with the imminent release of medieval stoner comedy Your Highness, but Portman is kindly easing us into the shock of her making utterly pointless films by making a mostly pointless one first. There's nothing wrong with No Strings Attached, but it's a long way from being a classic rom-com.
[FLOWPLAYER=http://uk.image-1.filmtrailer.com/50889.jpg|http://uk.clip-1.filmtrailer.com/5975_18374_a_4.flv,275,180]
TV assistant Adam (Kutcher) feels more than a little rudderless. He hasn't had a girlfriend since breaking up with his long-term squeeze Vanessa, he can't get anyone to read the script he's written for the Glee-esque show he works on and his successful actor father (Kevin Kline) is a relentless pothead who – oh wow, this shit just got real – is apparently boffing Vanessa himself. Understandably upset that he and his father have become "tunnel buddies" (thank you, generic-black-guy-played-by-Ludacris-of-all-people), Adam embarks on a mighty bender and sifts through his phone book in search of every girl who might conceivably want to sleep with him.
He ends up (innocently) passed out on a sofa belonging to Emma (Portman), an old friend from summer camp who he serendipitously ran into the year before, and before you can say 'ill-advised short-term relationship' they hop on the good foot and do the bad thing. Adam didn't get crabs, his hangover probably got zapped and he never has to see Emma or her odd flatmates again – it's all good. However, the abrupt nature of her hook-up with Adam appealed to Emma – she's a hard-working medical student with scant free time, so the prospect of no-strings sex without emotional baggage could be something of a mucky lifeline for her. The pair agree to use each other like scandalously attractive sex toys and end the deal if either of them starts to feel more than animal lust, but who knows if they'll be able to keep their strings firmly unattached?
It's very easy to criticise No Strings Attached. The plot is exactly as predictable, as you think it's going to be, all the supporting roles appear to have been delivered in a job lot from Acme Stock Secondary Characters Inc. and the potentially very interesting discussion about the whys and wherefores of Emma's conscious decision not to have a romantic relationship are carelessly brushed aside – it's scarcely a spoiler to reveal that she doesn't really stick to her guns. A film about fuck buddies (Fuck Buddies was the original title, before the MPAA vetoed it and Friends With Benefits turned out to be already taken by an identical Justin Timberlake/Mila Kunis vehicle due out later this year) more or less has to adhere to a few basic premises, and No Strings Attached jumps through all the hoops, dispending clichéd relationship stereotypes and unnecessarily raunchy montages with monotonous regularity.
However, this was never going to be the film that won Natalie Portman her second Oscar – seen as harmless nonsense, it really is quite charming. Ashton Kutcher is actually relatively good at acting – who knew? – and Portman is her usual charming self whether she's scrubbed up or undressed, whilst Kevin Kline's role as Adam's philandering father is deliciously odd. The other supporting cast members are universally above-average (really wasn't kidding about Ludacris), benefiting from a script with moments of incisive humour which dilute the inevitably saccharine scenes as well as take the edge off the frankly gratuitous writhing around. Notting Hill this ain't, but it's a perfectly satisfying tale which will warm your heart approximately 28% more than it turns your stomach.
About The Author