Moon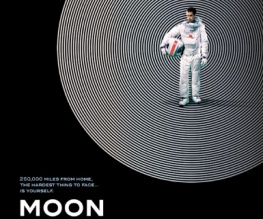 Sam Bell (as played by Sam Rockwell from Frost/Nixon) is nearing the completion of his 3 year-long contract with Lunar Industries, mining Earth's primary source of energy on the dark side of the moon. Alone with only the base's vigilant computer Gerty (voiced with superbly eerie monotony by Kevin Spacey) as his sole companion, Bell's extended isolation has taken its toll. Will he ever return home? Can he trust his computer, who is by his side whether he wants it or not, and expresses emotion only through the display of comedically simplistic emoticons on its viewing screen? Sam's only link to the outside world comes via satellite messages from his wife and young daughter. He longs to return home, but a terrible accident on the lunar surface leads to a disturbing discovery that contributes to his growing sense of paranoia and dislocation so many miles from home.
Forget the exciting popcorn flash-bang of Star Trek and its like: Moon is a thrillingly intimate sci-fi movie. At the heart of its story is one man struggling with loneliness, self-destruction and ultimately – in a way we shan't go into for fear of plot spoilers – loving himself. With a sparsely beautiful music score by Clint Mansell (Pi), Moon bravely (and wisely) skips the CGI to go for a more weighty and textured approach. The special effects and lunar environment in Moon rely on exquisite lighting and models. It's done so well that the end result is more realistic than over-produced CGI could ever be, and encourages in us a love affair with the gloriously lonely moon itself – and with the Earth, seen floating unattainably from a distance.
Moon is an engrossing, intelligent sci-fi thriller that ranks with genre classics like Alien, Blade Runner and 2001: A Space Odyssey. And you can see their influence. Sam Rockwell deserves an Oscar for this one – there are so few actors that could have been versatile enough for a role like that of Sam Bell.
Moon's award-winning director is relative newcomer Duncan Jones, better known as David Bowie's son Zowie (yes, really). He's clearly grown up with a love of the hypnotic realities of space in 2001, and the poignant, vulnerable characters of Blade Runner, and he's probably equally fond of thoughtful psychological thrillers like Memento by Chris Nolan.
The Moon DVD is worth picking up, not only because it's a wonderful sci-fi movie, but also because the extras include a 20 minute short thriller also directed by Duncan Jones that's good enough to merit watching on its own. A real treat for those who like their sci-fi with a touch of story – and never quite trusted HAL in the first place.
First published here.
About The Author