Tangled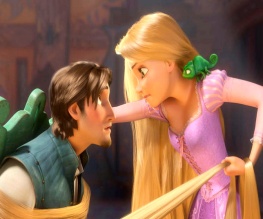 Fresh from their acclaimed detour to New Orleans, Louisiana for 2009's The Princess and the Frog, Disney is back in its home kingdom with Tangled. The film begins with a kidnapping, as infant princess Rapunzel is abducted by the local witch who aims to use the child's enchanted hair to stay youthful forever. Unaware of her childhood ordeal, Rapunzel (Mandy Moore) knows the witch only as mother (Dona Murphy) – an overprotective matriarch who has forbidden any contact with the outside world. After a chance encounter with wanted thief Flynn Rider (Zachary Levi) and a dispute with her captor, however, Rapunzel successfully negotiates her escape from her unassuming confines and sets off on an adventure of discovery – determined to investigate the mysterious floating-candle displays that inexplicably commemorate her birthday each year. A cantankerous chameleon, a dutiful horse and her magical locks in tow, can Rapunzel elude mother-dearest long enough to fall in love and find the answers she has long been seeking?
Tangled begins with a self-conscious voice over, clearly signalling that what is to follow is not just your usual fairy-tale slop. Invoking easy comparisons to Aladdin and The Emperor's New Groove from the outset, it is quickly evident that this is not a movie aimed exclusively at girls. Foreshadowed by a gender-neutral name-change (the film was originally titled simply 'Rapunzel'), the cockiness of Flynn Rider is an enjoyable counter to the princesses endearing innocence – their incompatibility disguising a traditional romance as a buddy comedy and resulting in many of the movie's biggest laughs.
Disney's mission statement does not end with demographics, however, the movie also benefiting from a compelling blend of different animation techniques as the studio attempts to finally unite old and new. Keen to emulate Pixar's success but so far failing to draw comparable praise for their own CGI offerings – Tinker Bell was simply dreadful – there is a lot riding on Tangled's attempts to bring Disneyland into the new millennium. Combining The Princess and The Frog's hand-drawn nostalgia with the dynamic fluidity of Bolt-esque CGI, the studio has crafted a visual experience which commands the best of both worlds. The renderings are characteristically breath-taking while the slap-stick flourishes thanks to the contemporary medium's proclivity for depth and substance, conspiring to create a world that is simultaneously traditional and contemporary. Aided by exquisitly implemented 3D, the image leaps from the screen – immersing the audience in a truly glorious and physical environment.
Once you get past the visuals and carefully orchestrated tone, however, Tangled slowly ceases to amaze quite so entirely. Though each character is exquisitely realised, the relationships that exist between them fail to convince so effectively. The film-makers devote too much time to character introductions, meaning Tangled is all build up and no pay off – the Maximus character suffering most as he is unceremoniously sidelined for great swathes of the movie, hardly earning his prominent position on the film's promotional posters. The characters finally established, they are not given enough time together to earn the investment the film-makers appear to expect from its audience. Deprived of their defining moment together – to be immortalised on bed-spreads and school bags the world over – by a plot that is too easily wrapped up and obstacles that are too easily overcome, the film simply ends with little in the way of a memorable set-piece. This can all be tied to one overriding weakness – the villain. Heir to a pantheon of supervillainy – from Maleficent to Ursula – Mother Gothel is comparatively damp, hardly a witch worthy of such a compelling ensemble.
Although hugely enjoyable, Tangled is unfortunately not as remarkable as it appears to think it is. Witty, engaging and visually stunning, Tangled is sadly marred by an uninspiring antagonist, an underdeveloped central relationship and a forgettably half-baked soundtrack. By no means disappointing in a period of outstanding animation, Tangled is nevertheless better suited as a starter to 2011 than a dessert for 2010.
About The Author