4.3.2.1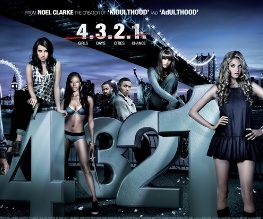 The weight of public expectation can be a heavy burden – it can cripple even the strongest men. In 2006, Noel Clarke wrote and starred in Kidulthood. His gritty portrait of disenfranchised youth culture raised eyebrows and two years later, he wrote, directed and starred in the sequel, Adulthood. The continuation of his emotionally damaged characters was a wake up call to the UK box office, taking an impressive £1.2 million in its opening weekend. Cinemas hurriedly arranged additional screenings and Clarke accepted his newly-minted reputation as the bright young thing of home-grown cinema. There were obvious concerns that he was a one-trick pony. Thankfully not. He can also recycle other people's work – in this case the sublime 1999 comedy-thriller Go. The result is a brave attempt at a longer feature film, but a lack of direction and editing leave it feeling sloppy.
The Heist
[FLOWPLAYER=http://uk.clip-1.filmtrailer.com/3938_9916_a_3.flv,275,180]
4.3.2.1 opens with one of the characters tottering in distress on the railing of a bridge, apparently preparing to jump into the icy waters. Her three friends arrive and try to talk her down but the suicidal girl's addled mind seems made up. The first of several increasingly tedious rewinds conveys us back two days to the source of the misery. Emotionally unstable Shannon (Ophelia Lovibond), ditzy socialite Cassandra (Tamsin Egerton), fiercely independent Kerrys (Shanika Warren-Markland) and supermarket checkout worker Jo (Emma Roberts) are best friends who unwittingly become embroiled in a diamond heist that has gripped London. Unaware of their pivotal roles in the robbery, the young women go about their daily lives. Shannon struggles to cope with the breakdown of her parent's marriage, while Cassandra flies out to New York for an important piano audition and ends up on the date from hell. Jo begrudgingly covers her sister's shifts behind the till and clashes with duty manager Tee (Clarke), and Kerrys declares war on her scheming brother, Manuel (Gregg Chillin). Over three eventful days, the pals discover the truth about the robbery and they employ all of their feminine wiles to stay alive and outwit the thieves.
Countdown to insanity
4.3.2.1 is Clarke's most ambitious film to date and he sensibly shares duties behind the camera with co-director Mark Davis. At almost two hours, this is also his longest feature and the second hour cries out for judicious editing to hold our wavering attention. Lovibond impresses in the emotionally wrought opening salvo but some of her co-stars are horribly wooden and we can't wait for their narratives to end. The script contrives random telephone calls as connective tissue between the storylines and at least one plot twist is nonsensical. There are some nice comical interludes, like a blue-eyed, blond-haired charlatan attempting to avoid a beating by a crowd of angry African Americans by telling them, "Come on you guys, I voted for Obama," but these are few and far between.
All in all, it's a brave attempt by a much-pressured director, but you can't help but exit thinking that in comparison to Clarke's earlier works, 4.3.2.1 is out for the count.
Did you enjoy 4.3.2.1? Talk to us…
About The Author