Brighton Rock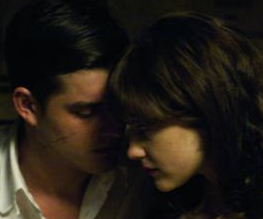 It's a strangely charming experience watching teams of grown tough guys – bona fide gangsters, no less – settling disputes on the streets and beaches of arguably Britain's premier holiday resort with knives instead of shooters. If writer-director Rowan Joffe (son of Roland Joffe, director of landmark eighties films The Killing Fields and The Mission) had updated author Graham Greene's source novel to 2010 instead of 1964, one presumes we would never have had the pleasure (these days that sort of thing is left mainly to the kids – on screen and, unfortunately, off it). It's one of many ways that Brighton Rock is a throwback: gangster film as fable, it eschews exaggerated caricature, choosing instead to breathe in the shadows.
[FLOWPLAYER=http://uk.image-1.filmtrailer.com/48025.jpg|http://uk.clip-1.filmtrailer.com/6025_17479_a_5.flv,275,180]
Principle among these is the dark heaving mass that passes for aspirational young hoodlum Pinkie Brown's heart, played by Control's Sam Riley. When the leader of his mob gets taken out, Pinkie makes his move to assume control but to do so he needs to first exact revenge on his boss's killer. Things go ever so slightly awry – as these things often do – and he's forced into using his 'charm' on a potential witness (Riseborough) who inexplicably falls for his dreadful, patently murderous patter, much to the chagrin of her maternal boss (Mirren). Things get ever more sinister as crosses are doubled, under-age brides are purchased off haggling fathers, and much sickly-sweet titular confectionery is symbolically bandied about like a big, phallic game of pass-the-parcel.
The reaction to this one has been of the yawningly predictable "How dare they?" nature, being as it is an update of the much-revered 1947 version which starred an iconic Richard Attenborough in the lead role. Frankly, that's a myopic shame because there's lots to enjoy in this bleakly entertaining yarn. John Mathieson's cinematography captures the theme of inherent good and evil perfectly with its natural, crisp lights juxtaposed against all-consuming shadows, and Joffe's direction is of a classic noir nature without feeling derivative. The performances are exemplary, as you'de expect from a cast featuring Dame Helen and John Hurt.
But it's Riley's Pinkie that provides the film's dark heart, and while his performance isn't quite as sinister as the film requires it to be, he certainly has a decent line in dead-eyed stares. So much so that you have serious questions about the mental stability of Rose, the object/victim of his transparently insincere affections. This dynamic is played to perfection in the film's best scene, as Pinkie records a vinyl message for her and reveals in words what his every other faculty has been screaming at her all along, that he in fact hates her, while outside the booth she smiles at him in ignorant, moronic bliss.
Her character's ignorance becomes an annoyance, but that's the point. To be so totally oblivious of the world's darker elements is to be complicit in its existence. Brighton Rock gets its message across without subtlety, but in a cinematic crime-film landscape of hoodies and mockneys it's still nice to come across a moralistic tale that's about more than who ends up with the loot.
About The Author