How I Live Now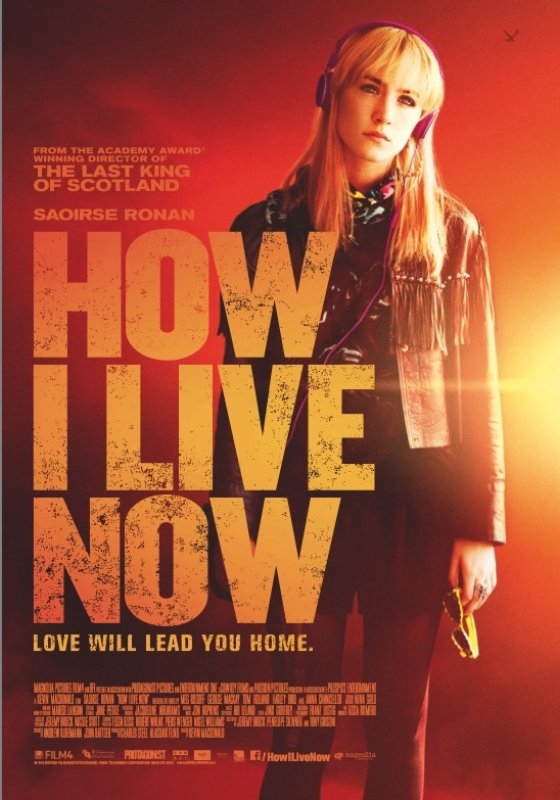 This review was first published on Steven's website Popcornaddiction.com. Make it your next stop.
Daisy (Saoirse Ronan), real name Elizabeth, is a teenage New Yorker sent to live with her Aunt Penn (Anna Chancellor) in England. She arrives to find a country on the brink of World War III and her aunt called away to a conference in Geneva, and is instead picked up from the airport by Isaac (Tom Holland), her young cousin, and driven north to the family farm. There she meets Piper (Harley Bird) and Eddie (George MacKay), the latter of whom she develops sexual feelings for. Their romance is cut short, however, when a nuclear explosion decimates London and showers the surrounding area in ash, throwing the UK into martial law and separating the boys from the girls as Daisy and Piper are sent to safety in Scotland.
Based on the prize-winning 2004 novel of the same name by Meg Rosoff, How I Live Now drops the book's supernatural elements in pursuit of realism and ages its cast up a few years in the name of taste. It's safe to say that this isn't the usual young adult fare currently being optioned by Hollywood, with its incest and child brutality. Even next to The Hunger Games, How I Live Now seems particularly bleak, and with the likes of Mortal Instruments: City of Bones and Percy Jackson: Sea of Monsters treading almost excruciatingly safely it's refreshing to have a film for teenagers that refuses to pull its punches.
Admittedly, the film takes its time before finally showing its full hand, and the opening segment is fairly familiar. Ronan seems a strange choice to play an American, but she is wonderfully sparky as Daisy, a difficult girl but "not the sort of Yank" who's going to kiss someone's ass just because they're British. Her performance prevents the fish out of water cliche from becoming boring. MacKay is strikingly English, particularly after his dual turns as Scots in For Those In Peril and Sunshine on Leith, and continues to impress in a very different role. Holland and Bird are great too, the latter rising to the challenge when she is promoted to co-star for much of the film's second and third act.
Once Daisy and Piper are on their own, first at a refugee camp and later in the wilds of England, the summer idyll is smashed and nobody is safe. Children die, women are raped and men are forced to do the unthinkable in the name of their country. A particularly unforgettable scene involves the two girls coming across a settlement overrun by foxes, where Daisy must pick her way through a pile of corpses in the hope that Eddie is not among them. Unfortunately, The Last King of Scotland director Kevin Macdonald is clearly more confident with the tougher elements than the romantic throughline (though this admittedly does well to discredit any comparisons to the gung-ho Red Dawn), and as shocking as these atrocities are they are occasionally undermined by glowing, topless apparitions of MacKay smiling out from the darkness.
How I Live Now may be a little too inconsistent to ever be considered a truly great film, but as a young adult movie it is something very special indeed. Ronan puts any recollection of The Host to rest, and together with Macdonald produces an incredibly powerful and visceral movie that will stay with you long after the Percys and Bellas of this world have disappeared from memory.
About The Author