Where the Wild Things Are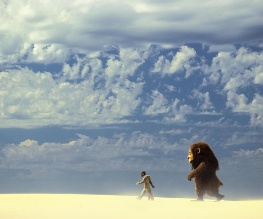 If 'kidult' films are the latest trend in Hollywood, Where the Wild Things Are would be at a Kate Moss level of cool. Utilising the hippest of directors, with a soundtrack from a heroine of the indie rock scene and costumes that have influenced the highest of high fashion this season, anyone who's at all plugged into the zeitgeist has been awaiting this movie for months. So much so that by the time the Wild Things bandwagon finally reached the UK this week, we kind of felt like we'd seen the film several times already. But that still couldn't take away from the bizarre, breathtaking, ground-breaking experience of watching it for ourselves.
Prepare yourselves…
[FLOWPLAYER=http://uk.clip-1.filmtrailer.com/1961_4158_1_3.flv,275,180]
The visuals are just as amazing as they seemed in the previews, the 10 foot high monsters are trippily wonderful and newcomer Max Records as the film's young hero, Max, embodies all the rambunctious spirit of a nine-year-old boy minus the usual kids' movie cheesiness. The ethereal yet edgy soundtrack from the Yeah Yeah Yeahs' Karen O only adds to the wonderfully peculiar atmosphere of the world the creatures inhabit.
These tricks ain't for kids
The main criticism is that adults will have an even harder time getting their kids to enjoy this one than they did in Wes Anderson's recent Fantastic Mr Fox remake. The initial 'real world' scenes deal with serious adult themes, while the later scenes take on an Age of Aquarius-esque level of fantasy, with plot and characters taking a back seat to the far-out sights and sounds of the imaginary world. The film never attempts to explain itself, and that lack of a linear story with familiar characters could throw a young audience off.
But that's also what makes the film great – it doesn't try to teach us any lessons, it just is what it is. It's this which makes Wild Things a standout in its genre and among the many formulaic offerings at the cinema this time of year, and which will also make it memorable for years to come.
About The Author