Rudolf: First Snow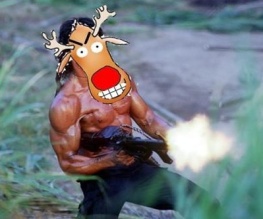 Rudolf: First Snow had a difficult production to say the least; which was hampered primarily by extended delays. The unique locations, the 400-page script and the thousands of extras required, all played a role in setting this monumental release back month after month. But Turkeybaster approached all of this as par for the course and after a gruelling ten years, presents a film unlike any other.
The story revolves around the title character, Rudolf (Christian Bale), a young and naïve Reindeer living like thousands of others at the North Pole. However, singled out at an early age, he was chosen to be trained as the helmsmen to General Claus's (Arnold Schwarzenegger) war chariot – accompanying the mighty warrior each year for one night as he wreaks havoc upon the world. Disaster strikes however, as young Rudolf witnesses the brutal murder of his parents at the hands of Inuit hunter Tschill (Janet Jackson) after they had just left a Justin Bieber concert too painful to watch. Ashamed at his weakness, Rudolf leaves the North Pole – promising to avenge his parent's death and rid the world of all injustice.
Beautiful. Epic. Timeless. These are the only words one can use to describe this film. Rudolf is one of the most layered and intriguing characters ever to set hoof in front of a camera and the story moves at an electric pace around him. From his gruelling training…

…to his encounter with the Gladiators…
…and his final confrontation of General Claus…
Rudolf captures the imagination and tugs at the firmly at the heart strings of any man. One of the reasons for this is Turkeybaster's fantastic pacing, the story of the young Reindeer moves seamlessly from the Artic, to New York and ultimately the North Pole of Mars. Spliced between are unforgettable moments of joy – most notably his encounter with Bambi – as well as the intense action sequences which round the entire film off to be everything and more the world hoped for.
Back to Write Christmas
About The Author