SHORTLIST: The Wrong Kind Of Snow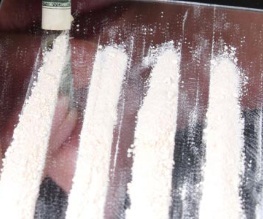 Tommy Brown (Danny Dyer) is trying to have a normal Christmas for the first time in his life. Having spent four years in Wormwood Scrubs for armed robbery, he decides to go straight and get his life together, using Christmas as a reason to spread some festive cheer and make up with his estranged family. Unfortunately, his flat mate Rob (Ray Winstone), is an aging alcoholic with delusions of gangsterism who has managed to blag a LOT of cocaine on tick from local dealer Sharp (Sean Pertwee).
Having not received any money from Rob, Sharp sends his goons (Ray Burdis and William Scully) around to the flat to either get the snow back or take the price out of Rob's hide. This coincides with Tommy's return from prison, and he finds himself alone in the house, making a Christmas cake for his family after many torturous hours of cookery lessons in prison.
The goons smack Tommy around a bit while they wait for Rob to return, then decide to force him to finish making the cake.
What none of them realize, however, is that Rob hid the cocaine in the caster sugar bag, so the cake that Tommy is making will definitely put everyone in a party mood with just a frisson of paranoia…
Added to the mix, Tommy's mother (Imelda Staunton) and father (Sir Ian McKellan) arrive on the doorstep with his sister June (Michelle Ryan), unhappy with their wayward son but touched by his heartfelt plea to come together at Christmas.
As you can probably guess, amusing antics unfold as the whole family is taken hostage while the goons wait for Rob to return. Everyone except Tommy (too nervous to eat), has some of the cake, meaning that he has to sit back and watch as his family succumb to the effects of the cocaine and begin telling the truth… About everything.
The Wrong Kind of Snow is a difficult film to pin down. By turns it is heartwarming, sad, violent and occasionally laugh-out-loud funny. The cast, particularly McKellan and Dyer, give exemplary performances, and without spoiling too much one of the finest scenes is when father and son have a face to face cocaine fuelled conversation about where Tommy's life went wrong. Director Ray Burdis (who also plays one of the goons), does a masterful job of pulling together this strange and eclectic mix of acting talent and forging them into solid, believable characters who begin to come apart at the seams as their drug-fuelled honesty threatens to tear the family apart.
The only criticism I have is that Imelda Staunton clearly has no idea what it's like to be on drugs. Her paranoid hysteria when *removed due to spoiler* is a little forced, and she was clearly coached by some of the younger actors. She makes a good effort, although she is overshadowed by McKellan who probably studied cocaine at RADA. (Either that or he's been to some magnificent parties, or both).
I wasn't sure what to expect, but Burdis' latest venture into the London underworld is a must see quirky British film with some outstanding acting talent and a strangely believable plot.
And if nothing else, it's worth watching just to see Ian McKellan on drugs.
By Paul Grzegorzek
To vote for The Wrong Kind Of Snow, click the "facebook like" button at the top of this page
Back to Write Christmas
About The Author