Once Upon A Time In Lapland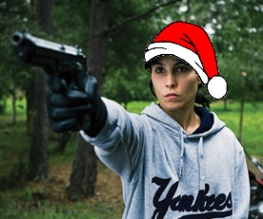 Christmas, a time for sharing, forgiving and spending time with family – that is unless you're Nicole Kringle…
Having seen her father, Nicholas Kringle – the real Santa, brutally slayed (sleighed), by sadistic, psychopathic gang leader Lucas D'eath she faces her near certain demise by running away and exiling herself into the vast, cold, harsh wilderness of the snow covered desert.
Nicholas' death allows his scheming, megalomaniac brother Noel (Lucas D'eath's boss) to take the honourable mantle of Santa; not only does he commercialise the festive period to a degree never seen before, he also makes himself more powerful and truly terrifying than any Santa preceding him, massacring those who do not believe and offering the gift of life to those who do. However, after 20 years in the wilderness, Nicole returns to Lapland, intent on avenging her father's death. In her quest, she uncovers some very disturbing dark secrets not only about her family, but also about Christmas and soon realises finding Santa is easy but getting close to him is an entirely different proposition.
Noomi Rapace (Nicole) is superb as the dark, unforgiving daughter who plots revenge on the gang and people responsible for executing her father with a controlled purposeful performance. Not to be outdone, the future of Hollywood's leading ladies, Winter's Bone Jennifer Lawrence (Lucy D'eath) is yet again, absolutely fantastic bringing about a performance of maturity, well beyond her 20 years, showing she is most definitely one of the stars of the future. Doug Hutchison (best known for his role as Eugene Tooms to X-Philes and Percy Wetmore in The Green Mile) is not only creepy but also menacing as the masochistic perverted gang leader Lucas D'eath. Support from Viggo Mortensen (Nicholas Kringle) and Christopher Plummer (Noel Kringle) even though limited, is inspired, adding to the class oozing throughout this movie.
David Cronenberg's supreme direction transposes the Spaghetti Western formula to the snowy, icy backdrops of Lapland. Stamping his well known trademark on this movie; Cronenberg has crafted a film with ultra-violent fight scenes and controversial explicit sex scenes, which are never glorified and at times, very uncomfortable to watch. Peter Suschitzky's cinematography (who has worked previously on The Empire Strikes Back, and eXistenZ) is stunning, allowing the landscape to serve as its own character thus giving the movie an extra dimension that so many films lack nowadays. The jewel in the crown however, for this wonderful Arctic Western is the scintillating, atmospheric and haunting score by the legendary Ennio Morricone.
David Cronenberg has brought a distinctive but alternative feel to a genre that is has struggled to make its mark consistently since Clint Eastwood's Unforgiven. There have been few 'true westerns" since with Open Range and 3:10 to Yuma, but Once Upon A Time in Lapland is a brilliant film which breathes new life in to the western genre.
By Leon Nicholson
To vote for Once Upon A Time In Lapland click the facebook like button at the top of the page.
Back To Write Christmas
About The Author