The Homecoming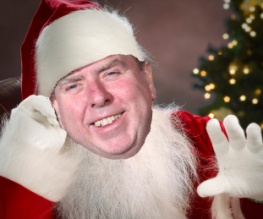 "Draw your claws, Santa- everything has changed"
Following Shyamalan's previous Christmas release "The Silence", which polarised reviewers, the (highly anticipated from the moment Burton came on board) sequel looked set to do the same. Last year, the shock ending we have now come to expect from Shyamalan revealed Santa (Spall) to be an alien and deported him to his home planet, with a resurrected Professor Dumbledore filling his boots as the newly improved Santa. (The court case involving J K Rowling is set for later next year).
"The Homecoming" sees Santa's arrival back on his own planet- a twisted yet strangely familiar world of bells, baubles and brutality. But who are the mysterious new rulers on the twin thrones of Pole? And what role will Santa fill in their plan for his world?
A film combining the talents of Burton and Shyamalan was either going to be a box-office revolution or an embarrassing train-wreck. Shyamalan, with his improbable tales and increasingly out-there twists could benefit from the growing predictability of Burton's franchise and clique-y cast. Burton perhaps could do with a little shaking up!
However, just looking at the cast list, it became obvious who wore the trousers in this venture.
Set to a score by Danny Elfman and visually stunning, the opening sequence was worth half a star on its own- Santa's sleighship arrived in the midst of a civil war… in candy stripe colours and pointy hats. However, this scene sadly set the high point for an otherwise massively disappointing and, at 164 minutes, far too long film. The remaining star I have awarded "The Homecoming" is for the acting of all leads, who somehow manage to shine against all the odds. Depp and Bonham-Carter give deliciously maniacal performances while occupying the twin thrones of Pole.
Death, love, white make-up- this is essentially a Burton creation through and through… with the exception of the last twenty minutes, which throw the film off course with a "shock" ending the viewer will see coming a lightyear sleigh ride away. The final nail in the coffin is the appalling script which could not be hidden by any amount of skeletons, black trees or stripes.
Hardcore Burton fans may want to add this to their Christmas lists as a sign of dedication but I recommend that everyone else stay away from the wreck and let the paramedics work…
by Roswell Ivory
To vote for The Homecoming click the "facebook like" button at the top of the page
Back to Write Christmas
About The Author