The Suicide Santas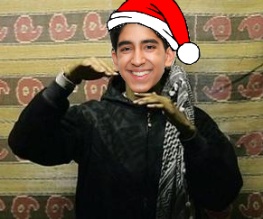 The screenplay for 'The Suicide Santas' – which is already tipped to sweep the board at next year's Oscars – was a collaboration by comedy Brit-writer Richard Curtis and Hollywood hero Quentin Tarantino, no less. And with a pedigree like that, how can it go wrong?
The film, which early audiences have described as 'scary but hilarious', 'heart-breakingly funny' and 'very Christmassy', was filmed on location in Birmingham and Manchester airports, Pakistan and the Arctic Circle and its galaxy of stars includes two cartoon reindeer (voices supplied by JO PASCALE and STACEY SOLOMON).
The story concerns a group of bumbling terrorists (lead by Slumdog Millionnaire's DEV PATEL), who mistakenly board a plane taking dozens of disadvantaged children for the trip-of-a-lifetime to Lapland (Clint has thoughtfully included a map of Europe in the top right-hand corner of the screen, highlighting Lapland, for American audiences. Oh, and subtitles for STACEY SOLOMON's reindeer).
The rebels need to get back to the UK in order to hijack the right plane – and fulfil their destiny – but first they have to get through twenty-four hours with the kids, snow, Santa, skidoos and lots of duty frees – without revealing their true intentions and identities. Can the Christmas spirit, some very cute children and the chance to sit on Santa's knee, change them forever?
Princess-to-be KATE MIDDLETON, (proving that she can get a job) and 'Strictly' winner KARA TOINTON, star as air hostesses who can do more than just push a trolley and pour tea, while HUGH GRANT is the cynical pilot of the plane and RENEE ZELLWEGER plays a lonely careworker, just poised for love. There's even a cameo appearance by BRUCE WILLIS, who stars as an air marshall with problems of his own.
With a soundtrack by 50 CENT and ALED-walking-in-the-air-JONES this really is a cracker of a film that the whole family can enjoy. Just don't forget your hanky!
By Helen Yendall
To vote for The Suicide Santas click the "facebook like" button at the top of the page
Back to Write Christmas
About The Author