Are multiplex cinemas better than indie cinemas?

We've picked 10 things that we reckon are central to making the cinema-going experience worthwhile; from the cleanliness of the venue to whether or not you can actually get any popcorn when you show up. And is seeing a film in 3D worth it? Are multiplexes better when it comes to seating? Do indie cinema fans all wear berets indoors? Sarah spent so long mulling these questions over she developed a split personality, with one side loving the commercial chains and the other being devoted to the quirks of independent cinemas. Psychiatric help is on the way…
#10 – Big screens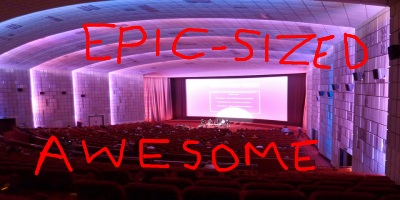 Sarah (camps out in the attic of the Vue in Leicester Square):
The Vue cinema in the Shepherd's Bush branch of Westfield has a prime example of what a BIG SCREEN should be. On a recent trip to see Wreck-It Ralph, I ended up in the Xtreme screen. It was mountainous. I actually lost weight climbing up the stairs to my seat. When I finally sat down and clocked the screen, a giant black hole of a thing, I thought yes – THIS is what cinema is about. Wreck-It Ralph was an absolute treat and the size of the screen, the 3D and the sound system contributed to the experience; an experience you just wouldn't get in an independent cinema.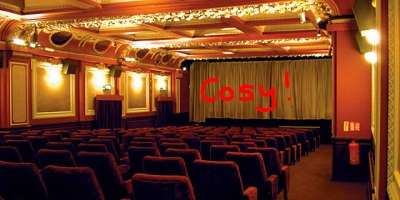 Ms Deen (wears her vintage raspberry beret in the shower):
Erm, HELLO – plenty of indie cinemas have big screens. Chances are they'll know exactly which film to put on it, too. Screens of the size you mention are actually a bit uneconomical. What if you see a film in the morning and there's hardly anyone there besides you, two OAPs and a lone man in a cap in the back row? That's still the ENTIRE screen that's got to be lit and heated. Total waste of energy, time and money. Indie rules so hard.
#9 – Sound quality
Sarah: If you're watching an action film that doesn't require a lot of thought, you don't just want to be able to hear the explosions, you want to feel them too. There's nothing quite like the sound of a motorbike blowing up a plane – it's right up there with running water and dolphin clicks. If you watched an action movie in an indie cinema, it'd be like watching the film from the other end of a darkened hospital waiting room.
Ms Deen: As long as you can hear the film, then what is the importance of surround sound? You make it sound as though there'd be vinyl noise all over the soundtrack. Independent cinemas are not stuck in the past, and if they are, it'll most likely be as part of a theme that makes them unique. Idiot.
#8 – Blockbusters and escapism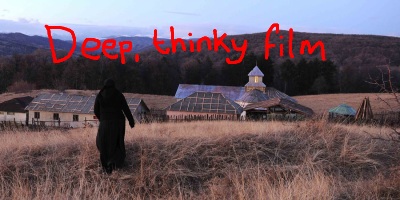 Sarah: There are plenty of films out there to make you use your brain juices, but sometimes all you want from a film is to get away from real life – it's the perfect way to unwind. You can let your mind relax. Multiplexes are crammed full of such films and doesn't treat them as a way of simply keeping up with the times. I know where I'll be seeing Iron Man 3, guys…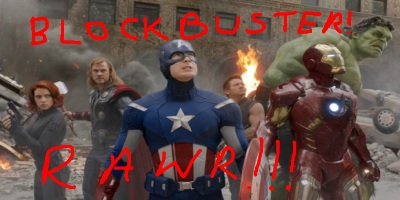 Ms. Deen: Independent cinemas show films for all types and all tastes, not just foreign cinema and documentaries – they're WAY more inclusive than you're making them sound. As I said before, most indie cinemas will use their largest screen to play the most epic films. I'd be more than happy to see Iron Man 3 at a Picturehouse. Besides, large cinemas only put on blockbusters because it will make them ALL OF THE MONEY EVER, not because they actually care about film.
#7 – Clientele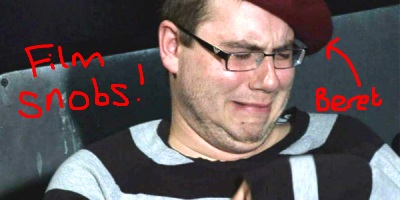 Sarah: One thing multiplexes excel at is a lack of snobs. Walk into an Odeon or a Cineworld and you are unlikely to find a beret-wearing, Rioja-swilling "movie buff" who last visited his nearest Vue cinema when The Artist was showing for all of one week. They wouldn't be seen dead watching The Dark Knight Rises, and, if they did, they'd start banging on about "Nolan's pre-DC work" and referring to films as "pictures".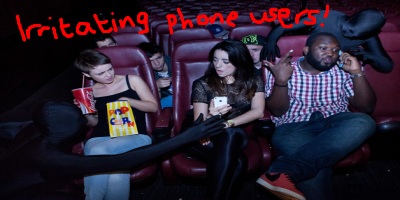 Ms. Deen:Multiplex cinemas are full of people who consider what their mates are doing to be more important than the film. They might as well take the ten-odd pounds they spent on the entry ticket and torch it. Who CARES how many people like your status or the latest funny thing that Jess' new dog did? WATCH THE BLOODY FILM AND FIND OUT AFTER. As for your sweeping generalisation of indie cinema customers – ridiculously harsh, isn't it? Chances are someone who wept their way through something like Amour would be just as happy watching Marvel Avengers Assemble. And who wears berets IN the cinema anyway?
#6 – Food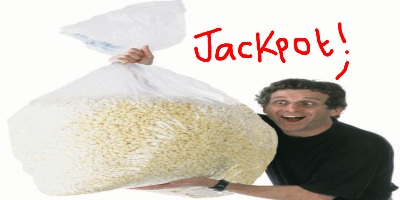 Sarah: Almost every cinema has popcorn, but there have been a few occasions where I've been to an independent cinema that has RUN OUT. It's criminal. Popcorn is synonymous with cinema. What do these places expect us to eat instead? Dust? Or maybe some organic chilli and lime dried peas? Sort it out.


Ms. Deen: Well, maybe if you ate dinner beforehand you wouldn't miss your air-puffed corn so much?
S: What if I'm not hungry beforehand?
Ms. D: Oh, stop being so difficult.
#5 – Seating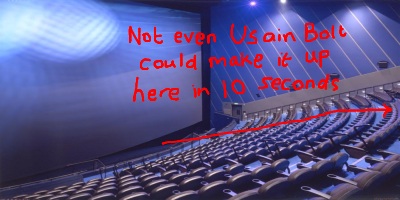 Sarah: Multiplexes boast some pretty ace "stepped seating" which means that, no matter where you're sat, there isn't the danger of someone who's taller than you sitting directly in front of you and either a) blocking your view; or b) blocking a bit of your view in the middle of the screen with their opaque head. When seeing a film, I like to be able to see every bit of the screen – even a potentially unimportant part that will never depict anything more crucial than grass, or sky or traffic. Indie cinemas with their gently sloping seats simply do not get the same effect.
Ms. Deen: The seats at smaller of independent cinemas are infinitely more comfortable than those at more commercial cinemas. Some of them RECLINE, for goodness sake! And they definitely provide more leg room. No, there's not much in the way of "stepped seating", but would you rather be able to see and sit on a plank of wood; or have a SLIGHTLY restricted view with your bottom nestled in a lovely lovely cloud? Sign me up for the latter.
#4 – Ethical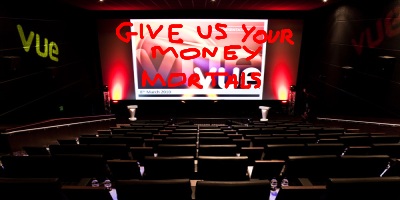 Ms. Deen: Ha – now this is one point you're unlikely to win on, Ms Multiplex. Smaller, independent cinemas avoid playing into the hands of evil corporations by showing films that aren't as bankable and may not have a lot of Hollywood buzz – but they STILL make for excellent viewing. Sometimes, as in the case of The Raid, they have both.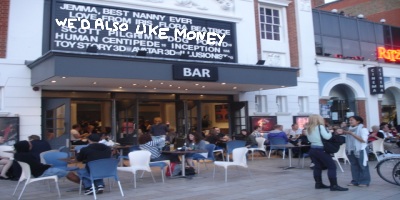 Sarah: Now hang on – you say "aren't as bankable". Indie cinemas more than make up for this fact by the price of their tickets, food and membership. As for films that don't have Hollywood buzz – try OLD. Some indie cinemas actually expect me to pay for a film like Clueless. I could probably get that on VHS if I looked around in enough charity shops! And wasn't the Picturehouse cinema chain recently bought by Cineworld making co-owner Lyn Goleby – and I quote The Guardian, here – a "multi-millionaire"? Pot, kettle, black.
#3 – Cleanliness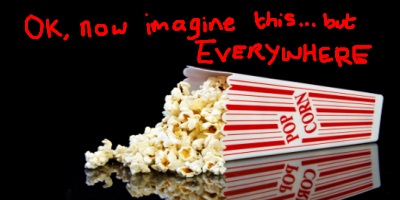 Ms. Deen: Commercial cinemas are rarely spotless, I find. No matter where you sit there will either be sweet wrappers, half-eaten hot dogs or chewing gum wedged under or between the seats. Indie cinemas with their smaller and more manageable screens frequented by actual film-lovers are less likely to leave a mess.
Sarah: Be fair, it's hard to keep some of the larger cinemas absolutely spotless. You can't blame the staff for missing a couple of things. In fact, complaints about messy screens are extremely rare. Besides, the mess that doesn't clutter the screens in smaller cinemas always finds its way to the TOILETS. Think about that.
Ms. D: I've thought about it – and I think I'd prefer a spotless viewing environment to a toilet I could eat my multiplex-approved popcorn off. Suck on THAT!
#2 – Events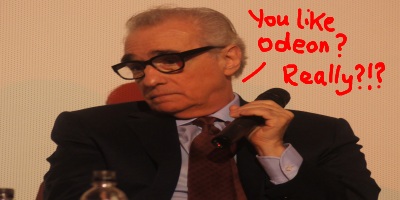 Sarah: At commercial cinemas, going to watch a film IS an event. Sort of…
Ms. Deen: Fine, but what do they offer besides that? Is there anything for film lovers to attend, like Q & A with directors and actors?
S: They do, like, preview screenings from time to time. I think? And Twitter Q&As. Everyone LOVES Twitter, right? …Right?
#1 – 3D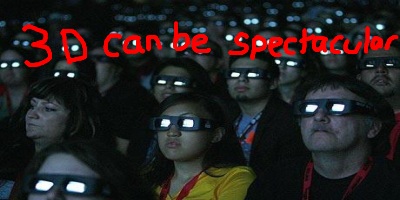 Sarah: Independent cinemas are so lofty they wouldn't even stoop to screening films in 3D. They're missing out on a section of customers who are willing to pay extra for the third dimension. If 3D is used correctly, as in the visually stunning Tron: Legacy (decidedly NOT stunning in all other aspects), it is a thing of wonder.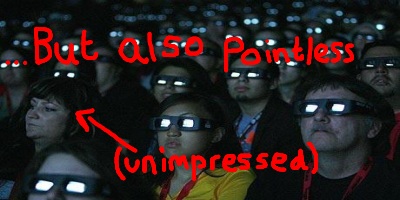 Ms. Deen: No, independent cinemas don't offer 3D, because it's an affront to film lovers everywhere. Think dodgy pop-up effects, overpriced tickets and ridiculous glasses – why would anyone want that? REALLY?!
S: Oh, go back to your Rioja!
Ms. D: Don't you have some popcorn to inhale, Madame Multiplex?
So there we have it; are you backing the Indie cinema (obviously yes) or the Multiplex (have a talk to yourself)? Let us know below!
About The Author