Teenage Mutant Ninja Turtles movie filming in April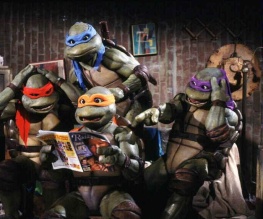 It has been announced that the reboot of the Teenage Mutant Ninja Turtles franchise is to start filming in April, in New York City. After being scorned by fans last August when one of the first versions of the Ninja Turtles script was released recasting the mutants as aliens, and fans accused it of "sodomising" the comics and tv series. It's safe to say the film is unlikely to be hailed as a modern classic.
This is especially concerning when you consider that it will be directed by Jonathan Liebesman of Battle: Los Angeles and Wrath of the Titans, and produced by Michael Bay (who is currently also working on Tranformers 4 and Bad Boys 3 just in case you were wondering).
Producer Michael Bay said he hoped that the new films will inspire a young generation, saying "Kids will believe one day that these turtles do exist, when we're done with this movie."
One of the comic book writers, Peter Laird, has promised that the film will remain true to the spirit of the original stories but added that the film "may employ face replacement technology, which would allow the turtles to be much more expressive". We've got our doubts.
Accept your spoiled childhood now, Ninja Turtles is set for a UK release on 16 May 2014. This is the same release date as the new Godzilla film.
If you didn't catch it the first time, here's our suggested opening scene for the Turtles reboot. Take note, Bay.
Too many sequels to cope with? Let us know below.
About The Author